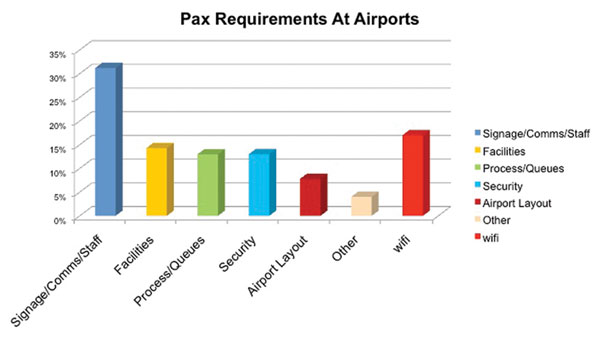 As a result of social media-inspired discussion, and with the assistance of London City Airport's sales director, Bernard A. Lavelle, we can reveal the views of passengers themselves on what they really want from the airport of the future.
As outlined in the above chart, the aspect that can most improve the passenger experience on the ground is high-quality signage, communications and staff, with almost a third of all respondents highlighting this as a vital passenger requirement.
The second most common request was free WiFi in the terminal building, while improved facilities, processing and queues, and an enhanced security process are also prominent on the passenger wish list. Airport layout was also identified as an area that can make a telling difference to the overall passenger experience.
To contribute to the ongoing discussion please visit the Airport Industry Professionals LinkedIn group.
If you have another area of passenger experience you would like to discuss with our community, please visit the Future Travel Experience LinkedIn group.