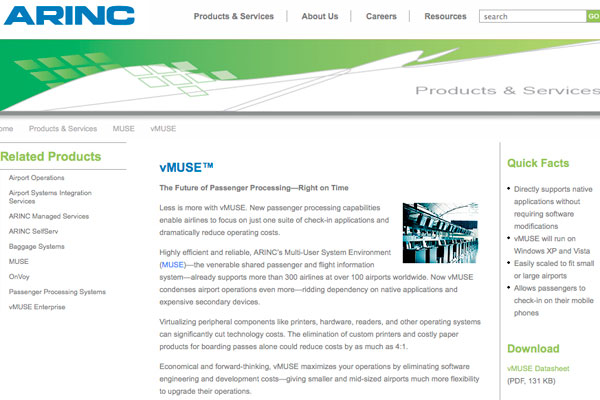 ARINC has started the installation of its vMUSE Enterprise Common Use Passenger Processing System (CUPPS) at George Best Belfast City Airport.
The check-in solution is designed to reduce airport IT costs, power consumption and space requirements, while delivering the efficiency of a modern common use passenger system.
"The check-in costs at Belfast City Airport will be optimised with our hosted CUPPS service," said Tony Chapman, Senior Director, Integrated Travel Solutions, ARINC EMEA.
"Hosted services are becoming increasingly popular due to the economic benefits they offer, and most experts believe the next decade will see a significant move from PC-based applications to hosted models."
The hosted system allows 'thin client' devices – such as user workstations without hard drives or moving parts – to be used in place of conventional computers at service desks, eliminating the need for on-site servers and associated infrastructure.
More information is available here.
CUPPS & Self-Boarding Workshops – are they right for your business?
Future Travel Experience 2011 will be complemented by two workshops exploring the viability of CUPPS (Common Use Passenger Processing Systems) and self-boarding, where specialists and guest speakers will lead in-depth technical sessions in an interactive environment. The sessions will examine the benefits and any other issues associated with the two initiatives to highlight whether they could be of benefit to your business.
The CUPPS workshop is titled: 'Will CUPPS become an integral part of the passenger processing paradigm?' and will include expert speakers from McCarran International Airport, Lufthansa and Ink Aviation.