The next-generation digital signage utilises the latest holographic imaging technology. Already in place at a number of UK airports, there is growing interest, both within the UK and globally, and the range of applications for the 'virtual assistants' looks set to grow.
Tensator has installed 'virtual assistants' within the security queues at Birmingham, Bristol and London Luton airports. There are also plans for a further rollout at London Luton and an installation at Edinburgh Airport. "On a global scale, interest in this technology has been high and we are in talks with numerous airports and airlines across the globe," explained Ajay Joshi, Tensator's media product development manager.
Each 'virtual assistant' is custom-built and provides an exciting information, brand and promotional messaging medium. They can be used in a variety of applications across a range of sectors and, because it is a completely customised solution, functionality can be customised to the relevant environment and application.
"To date, our 'virtual assistants' have been used to effectively communicate, in an innovative manner, the preparations passengers need to make prior to their arrival at the central search area, in order to pass through as quickly as possible," said Joshi. "Research has shown this has customarily been an area of high stress due to the new rules and regulations which are regularly updated, and the airports we have worked with are always looking for new ways to minimise stress for their passengers."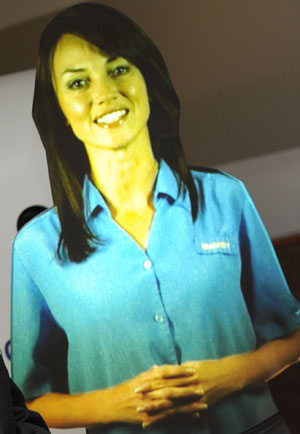 Positive feedback
The aim of the two holograms – Holly and Graham – installed at London Luton was to deliver a compelling "how to prepare" message, which, if successful, would result in fewer passengers needing to be stopped and searched. Since their introduction, the number of bags identified as being packed incorrectly has been reduced by 5%. Played by actors, Holly and Graham are now valued members of the airport staff.
London Luton reports fantastic feedback from travellers. "Our passengers are very impressed with the technology; they haven't seen anything like it before," commented Oliver Jaycock, marketing manager, London Luton Airport.
Manchester Airport has also introduced two eye-catching holograms – John and Julie – in Terminal 1. They are recordings of actual customer service staff John Walsh and Julie Capper, who currently work as part of the customer service team. They greet passengers before they enter the security search area to explain the liquid restrictions and remind travellers to have their boarding cards ready. The technology has been developed in conjunction with Musion and uses a texture that is carefully prepared during manufacture to retain maximum transparency and strength.
Julie Armstrong, customer services director at Manchester Airport, said: "We are always looking for new ways to improve the experience of our airport for customers. But four years after the restrictions were introduced, passengers understandably forget about liquids. We don't want anyone to have to throw their drink or make-up away, so we've tried lots of different ways to reinforce the liquid rules, from posters to people dressed up as giant deodorant cans! Maybe holograms are the answer?"
A customisable solution, looking ahead, the holograms could be deployed throughout the airport in both operational roles disseminating passenger information and for use by retail or catering outlets.