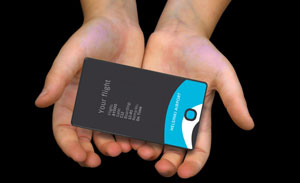 Helsinki Airport is undertaking a one-month trial whereby transfer passengers with tight connecting times will be provided with an airport guidance display card, which guides them directly to their boarding gate.
The lightweight display card shows real-time flight information and provides updates on boarding times and the estimated walking time to the gate. As the card doesn't require wire charging, it has an operation time of up to three years.
Heini Noronen-Juhola, Vice President, Helsinki Airport, said: "Helsinki Airport is the leading long-haul airport in Northern Europe and a popular transfer point for flights between Asia and Europe.
"This is not only because of that the fact that the shortest and most direct route between Europe and Asia goes via Helsinki, but also because the airport has long invested in creating a cosy and relaxed atmosphere for its passengers, as opposed to the crowded, busy airports."
For more information, click here.