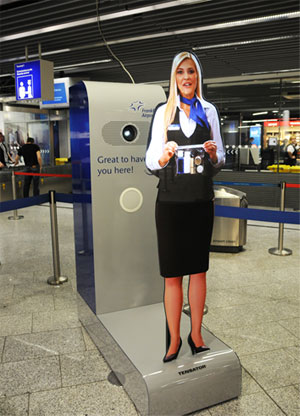 Frankfurt Airport has become the first airport in Germany to install a Virtual Assistant to help simplify the security process for passengers. Meanwhile, German airline Condor has also installed its own Virtual Assistant at the German hub to guide passengers through the check-in process.
The airport's Virtual Assistant is being trialled at the entrance to the security area, where it offers advice to passengers on the preparations they should make before entering the security search zone.
Bärbel Töpfer, Vice President of Airport Security Management, Fraport, said: "We're delighted to be the first German airport to test such an innovative passenger control system like the Virtual Assistant. The trial will enable us to decide whether to opt for a roll out of the Virtual Assistant throughout the airport."
Passengers flying with Condor are also greeted with a Virtual Assistant offering advice on how to use the airline's self-service check-in kiosks.
Christian Schmitt, Vice President Ground Operations, Condor, said: "We're always looking for ways to make our customers' journeys as easy and relaxing as possible and the Virtual Assistant enables us to provide them with valuable information that can speed up the check-in process."
For more information, click here.