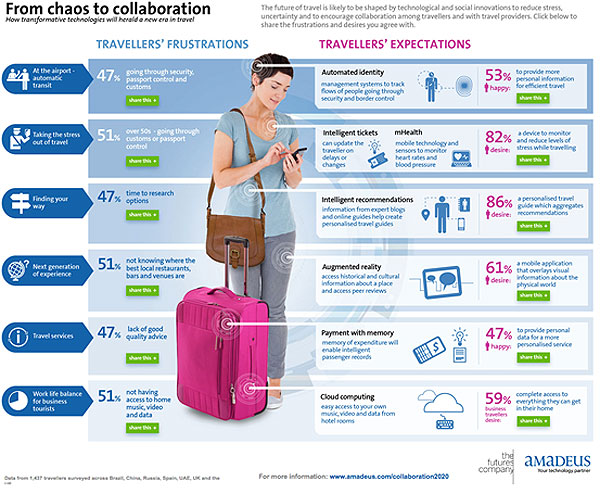 Amadeus' new report entitled 'From chaos to collaboration' explores the role that new technologies will play in enhancing the passenger experience of the future.
The findings of the study are divided into six sections: The next generation of experience; Automatic transit; Payment with memory; Intelligent recommendation; Taking the stress out of travel; and The Business 'tourist'.
Among the significant findings from the study are that "For the first time ever, checking-in could become the exception rather than the norm, as manual check-in security for individuals will be replaced by faster and more efficient automated identity management systems that track flows of people". The report then states, however, that "privacy and security concerns are likely to restrict the use of these technologies".
Under the 'Payment with memory section', it is stated that "All data on travel-related payments will be integrated, acting as a memory of expenditure and activity for individuals, groups and travel businesses", while it also outlines that "travel will become even more of a socially-driven activity than it is already", as technologies make it easier to tag and recommend specific aspects of a travel experience to their peers.
The full 'From chaos to collaboration' report can be downloaded here.