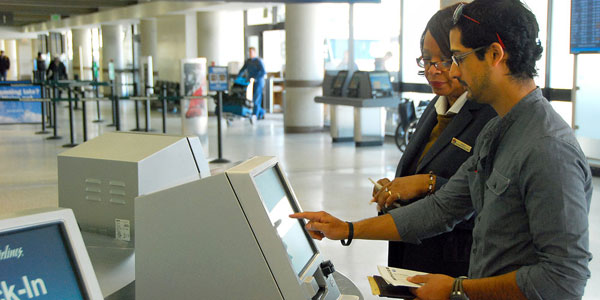 Alaska Airlines' new 'Airport of the Future' concept at Los Angeles International Airport serves to portray the airline's dedication to providing the best possible passenger experience.
Self-service and speed are two key points at the heart of the new Alaska Airlines home in the refurbished LAX Terminal 6. Check-in counters have been replaced with check-in kiosks and new bag-check stations will reduce the average waiting time for passengers with checked baggage from 20 minutes to less than four minutes.
The move from Terminal 3 to Terminal 6 also allows for more convenient access to U.S. Customs and Border Protection checkpoints and to alliance partner Delta Air Lines in Terminal 5.
'Hassle-free, seamless travel'
"We want Alaska to be the easiest airline to fly on, and our new terminal in Los Angeles furthers our mission to make travel hassle-free and seamless for our customers," said Bill Ayer, Chairman and CEO, Alaska Airlines.
"Our new terminal has a friendly and spacious feel, with a state-of-the-art check-in-process, a shorter walk to the security checkpoint, convenient connections with international flights and access to electrical outlets throughout our gates. These features should make Alaska's LAX passenger experience one of the best in the country."
The 13-month Terminal 6 refurbishment project was a collaborative effort between Alaska Airlines, Los Angeles World Airports and the Transportation Security Administration, and was completed at a cost of $238 million – $33 million under budget.
More information on Alaska Airlines' 'Airport of the Future' can be found here.