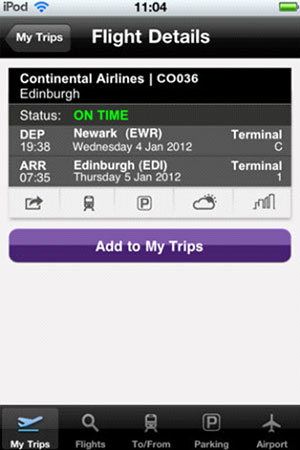 Edinburgh Airport's new mobile app provides passengers with flight tracking, terminal and parking information. The app is available for both the iPhone and Android devices.
Features of the free-to-download app include: flight tracking for both in- and out-bound journeys; journey planner to and from the airport via public transport; integrated Google map with directions to the busy hub for drivers; and a comprehensive terminal map with hotspots for shopping and eating.
Gordon Robertson, Head of Communications at Edinburgh Airport, said: "The creation of the Edinburgh Airport app will help our passengers with their journey even before they set foot in the terminal. We're always looking for ways we can improve our travellers' experience and we're hoping the new Edinburgh Airport app will enhance their time at Edinburgh Airport."
The app also includes a parking widget, enabling travellers to reserve a space direct from their phone and tag the exact location of their vehicle, with the option to include a photo reminder.
» More information can be found here.