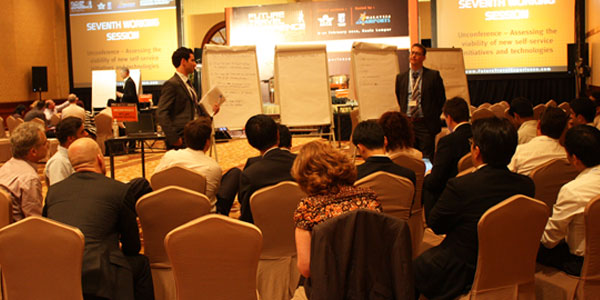 New technologies are rapidly changing the air travel industry as we know it; online check-in and self-service kiosks were still relatively unknown as recently as five years ago, but today we cannot imagine air travel without them. With these technologies eagerly accepted by passengers across the world, self-service is becoming a focal point in other areas of the passenger experience as well.
One of the most recent introductions is self-boarding. Self-boarding allows passengers to take control of their own boarding process and therefore perfectly suits our increasingly self-sufficient and tech-savvy society. The Unconference session on self-boarding showed further insight into the benefits of self-boarding, as well as some challenges in the airport segment for its implementation.
Implementation
When looking at the implementation of self-boarding, there are some challenges to overcome regarding where self-boarding can be implemented. One of these challenges is the implementation of this solution at gates where ID checks are required by airline regulation. The main differences can be seen when looking at situations at airports such as Schengen/Non-Schengen, EU/Non-EU (within Europe), Domestic/International (USA, Australia, China and other continents/countries).
Efficiency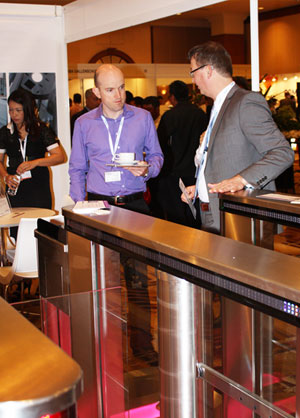 Efficiency with automated boarding is increased, but as most other new inventions on self-service have shown, educating the passenger would help to increase the efficiency to its full potential.
Users
Although the self-boarding solutions that are offered to the industry allow all users from 70cm tall to use the gates, it is advised to call large families, people with special needs to move forward at the start of the boarding process. These groups of people can be offered a first boarding opportunity and allow the main percentage of the passengers to use the self-boarding solution.
New Technologies
NFC (Near Field Communication) is one of the technologies that can complement the process of self-boarding when implemented in a self-boarding gate. Although currently not fully introduced in the world market, it is expected that NFC will get more established in the next 12 to 24 months. Integrating NFC in the self-boarding gate can easily be done and should be considered.
Benefits
Optimise boarding staff resources – allows more focus on customer service to handle exceptions and caring for passengers with special needs;
Free-up boarding staff;
Reduce aircraft turnaround time – this minimises flight delays and congestion in the wait area and on the airport terminal/airside;
Improve the customer experience, as the customer participates and has more control in the process;
Reduce queuing time at boarding – improves passenger satisfaction;
Accelerate boarding process in areas with limited capacity, optimising use of airport facilities, thus requiring less infrastructure changes;
Control flow of passengers to passenger holding areas.
If you missed the chance to take part in the Unconference session at FTE Asia, you can always share your views with the Future Travel Experience community by leaving a comment below, or by visiting our Linkedin page.