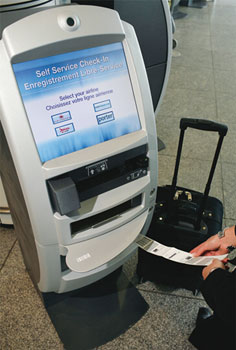 Montréal-Pierre Elliott Trudeau International Airport has become the first airport in North America to introduce self-service bag drop facilities.
Passengers travelling from the airport can now check-in and print their baggage tags at a kiosk, before proceeding to a self-service baggage drop-off point.
Developed in collaboration with COFELY Services, the baggage drop off points are equipped with bar code readers and touch-screen technology, offering easy-to-follow instructions.
WestJet is the first airline to have adopted self-service bag drop at Montréal-Trudeau, but a number of other airlines are expected to follow suit in the near future.