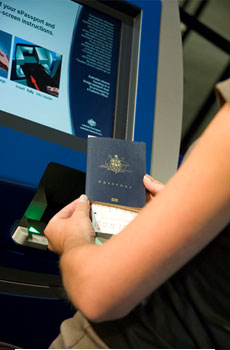 Sydney Airport has announced that it is to install additional SmartGates, which use facial recognition technology to automate and speed-up the processing of passengers through immigration.
"SmartGates are already delivering a better passenger experience at Sydney Airport," said Kerrie Mather, the airport's CEO. "The self-service system allows Australian and New Zealand passport holders to clear customs without waiting in line to have their passports manually checked and stamped by a Customs officer."
The SmartGate process takes about 90 seconds in total and can be used by passengers who own an e-passport.
The e-passports are firstly read and a SmartGate ticket is issued by a kiosk before a camera checks the passenger's face against their passport photo at the gate. Passengers can then proceed to the baggage hall and hand in their SmartGate ticket and incoming passenger card on exit.