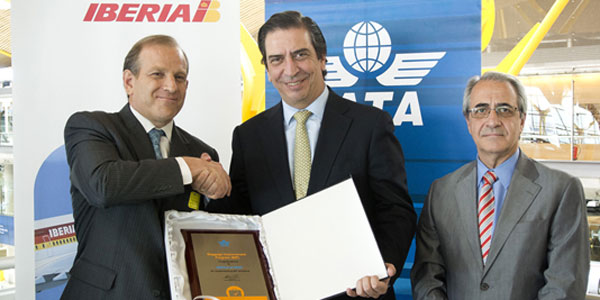 Iberia has been recognised by IATA for its ongoing efforts to improve baggage handling at Madrid-Barajas Airport as part of the Baggage Improvement Programme (BIP).
The aim of the BIP is to identify the causes of incidents involving baggage and to develop solutions to be applied by airports, airlines and handling operators. Iberia has been involved in the project since 2009 and improvements at its T4 hub at Madrid-Barajas Airport include a 35% reduction in local baggage transport time and the introduction of a system for real-time monitoring of the progress of each piece of luggage.
Iberia has also helped to develop a solution that allows for passengers to be informed of the status of their baggage and to log baggage-related complaints or requests online and through mobile devices.
The airline is currently working with Aena to develop new software for baggage handling in T4 that can expedite the transfer of baggage between connecting flights and to segment delivery of baggage by customer type.
Commenting on the award, Iberia CEO Rafael Sánchez-Lozano said: "This prize strengthens the commitment we have with our customers to manage luggage properly, which is a key aspect of their travel experience."
More information can be found here.
FTE 2012 will include a workshop on Baggage Advancements, which will be chaired by David Vance, Managing Director, Airport Services, American Airlines. The workshop will cover self-tagging, bag drop configuration, common-use infrastructure, bag tag models and standards, lost baggage, remote baggage drop off and collection, plus baggage fees.
» View the full FTE 2012 conference programme
» Register for FTE 2012