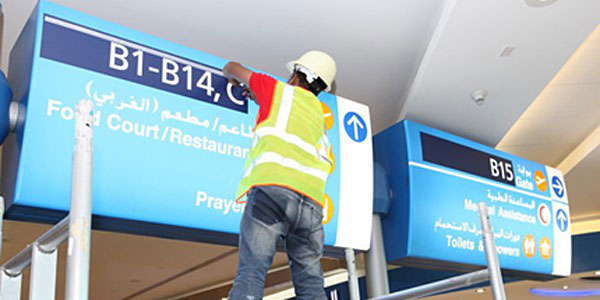 Dubai International Airport has installed a new alpha-numeric system for gate numbering to improve passenger wayfinding across the airport. While Terminals 1, 2 and 3 retain their current numbering, all concourses and departure gates have been renamed.
Concourse 1 becomes Concourse C with gates numbered C1 to C50, Concourse 2 becomes Concourse B with gates B1 to B32, and Concourse 3, the world's first purpose-built A380 facility set to open next year, becomes Concourse A featuring gates A1 to A24. On the other side of the airfield, gates in Terminal 2 have been numbered F1 to F6.
"Essentially we have looked at this through the eyes of our customers to help them find their flights with ease and convenience," said Paul Griffiths, CEO, Dubai Airports. "Research shows us that passengers find an alpha-numeric system a far easier way to navigate their way through the airport and locate their boarding gate."
The change impacted everything from flight information display screens to boarding cards and airport reservation systems and required that more than 1,500 signs be changed.
Hundreds of airport staff, including Dubai Airports' 'May I Help You' personnel, were deployed across the airport to support customers during the changeover.