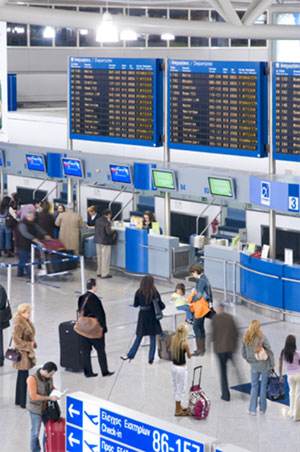 Branded Departure Gate Lounges, 'Time to Gate' informative monitors and Virtual Assistants can now be found at Athens International Airport (AIA) as part of its aim to enhance and facilitate the passengers' travel experience.
These new services provide airport related information in an easy and passenger-friendly way, offer convenience and entertainment to passengers, while they also promote Athens Airport's high-tech profile and increase the efficiency of airport operations.
Video walls
Large video walls are located in seven departure gate lounges. By the end of November 2012, 10 departure gates in total will be hosting these video walls. Airlines can use the screens to display their corporate or destination videos, as well as images and text on destination tips. The destination's weather forecast is also displayed.
The content of screens is updated to follow the flight schedule in order to capture the target audience of the specific airline that operates in the particular destination. Passengers are informed and entertained while waiting to board, plus airlines directly address their customers in an innovative way. Through this customisation of AIA's departure gates, the passengers' travel experience is enhanced and at the same time airlines' services and brand image are effectively exposed to their target audience.
Real-time updates
Plus, passengers can now easily estimate the time needed to reach their departure gate. Expected 'Time to Gate' is provided to passengers in real-time, via eight monitors located in both Intra Schengen and Extra Schengen areas of the terminal building. The provided content is dynamic and refreshed every minute. Through this new service, passengers are informed based on the current location of the monitor and in this way avoid any possible delays. Additionally, through this service, the queuing is decreased and smooth and efficient terminal operations are guaranteed.
Virtual Assistants
Additionally, two Holographic Announcers/Virtual Assistants, which are, in fact, projected images creating the illusion of a human agent providing airport information, are located in both Intra Schengen and Extra Schengen Areas. Pre-recorded videos are played, providing useful information to transfer passengers. The use of Holographic Announcers has unlimited capabilities and is an effective and unique way to communicate any message directly and successfully to passengers. In the future, Athens International Airport plans to use them for the provision of additional information such as security tips and shopping promotions.