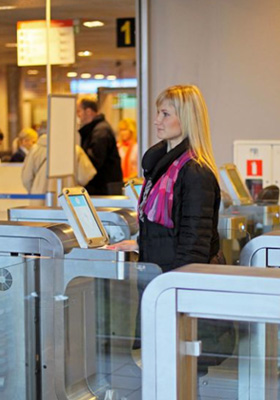 Riga International Airport has installed security e-gates at the entrance to border control. The e-gates automatically scan passengers' boarding passes to grant access to the border control area, removing the need for manual checks by a human agent.
The installation of the new e-gates is expected to improve passenger handling and reduce queuing times. A single agent is able to monitor a number of lines and will be on hand to offer assistance if needed.
As well as printed boarding passes, the e-gates are also able to read boarding passes on mobile devices.
This initiative is part of the wider 'Introduction of New Services at Riga International Airport' programme, which also includes development of a new Baggage Reconciliation System and implementation of Wi-Fi throughout the airport.