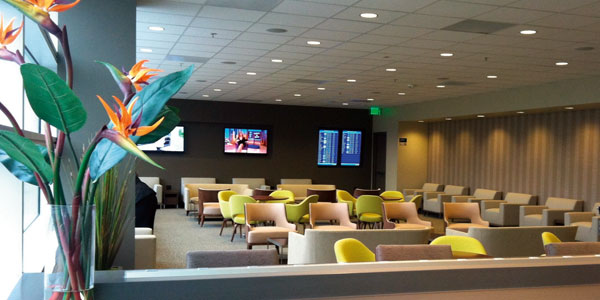 Mineta San José International Airport (SJC) has made the VIP air travel experience possible for every passenger with the opening of its The Club at SJC airport lounge. All travellers at the airport have access to the lounge regardless of what carrier they are due to fly on or what class of ticket they have purchased; all they need do is acquire a day's pass to the lounge for $35 (€26).
Admission to The Club incorporates use of all the lounge's amenities, which include complimentary food and alcoholic beverages, shower facilities and a high-speed WiFi connection, as well as entry to the designated business centre and VIP room.
The common-use airport lounge opened on 10 January in international Terminal A and was created by Airport Lounge Development. The Texas-based company's design was reportedly inspired by the blend of high-powered business and the natural landscapes in the airport's Silicon Valley location.
SJC's Director of Aviation Bill Sherry said: "We built The Club at SJC in response to customer demand and to enhance the excellent experience passengers tell us they are currently enjoying. It is an appropriate investment for Mineta San José International Airport, the international gateway for Silicon Valley."
The 7,400sq ft lounge has seating for 128 people and offers a bar and multiple sitting areas for relaxation and work.
"Travellers can enjoy a warm and welcoming environment offering a variety of settings – social spaces for dining or a cocktail, places to attend to business matters, or quiet areas for reading, writing and relaxing. Impressive works provided by artists of the San Jose Institute of Contemporary Art, in partnership with the lounge operator, add to the customer experience," he added.