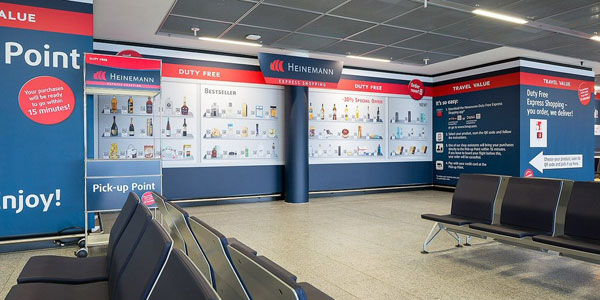 Passengers passing by Frankfurt Airport's Schengen Gate B59 can now purchase duty free goods by simply pointing their smartphone at the wall.
The wall, which is stylised like a floor-to-ceiling billboard, is covered with images of popular travel retail products, with each one accompanied by a unique QR code. When the code is scanned by a passenger's smartphone, they can proceed to place the product into a virtual shopping basket. When they are done scanning, they simply place their order and wait for it to arrive at a neighbouring pick-up point in less than fifteen minutes. Payment is only taken upon the collection of the purchases.
"The trial period that we've organised in partnership with airport operator Fraport is limited to six months in the first instance," said Markus Ettlin, Head of Central Marketing at Gebr Heinemann: "The main point of it is not to make a lot of sales. We are more interested in finding out how the new virtual shop is used and which nationalities it appeals to most. At the same time, of course, we want to make shopping even easier and more relaxing for our customers."
"We are delighted that Gebr Heinemann and Fraport are working closely together to enhance duty free shopping by raising customer satisfaction levels as high as possible together with us," commented Fraport Head of Retail Ute Pohl. "We are excited to see how passengers will respond to the new virtual shopping range. And we're proud to be the first German airport to offer travellers this totally new shopping experience."
Passengers will be able to choose from an initial range of 60 products, many of which are categorised as 'Special Offers', which grants an exclusive 30 per cent discount. Should passengers need to board their flight before they can collect their purchases then the order is automatically cancelled.