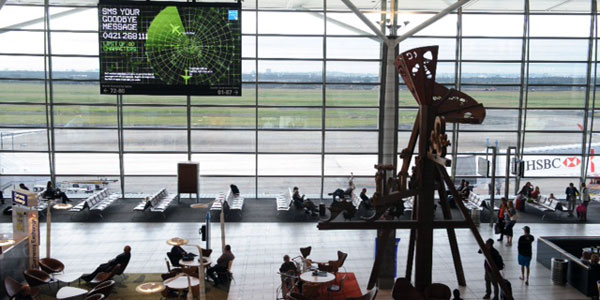 Brisbane Airport has become the first airport in Australia to enable visitors to publicly share their personalised SMS messages with passengers. Two large LED screens in the international departures area display the custom 40-character messages, which can be easily seen from several areas of the terminal.
Since the installation of the 3m x 5m screens hundreds of visitors to the terminal have taken the opportunity to post a message to their departing friend or family member, be it 'farewell', 'we'll miss you', 'come back soon' or 'congratulations'.
The interactive screens harness the latest in state-of-the-art digital technology, and are another step in Brisbane Airport's digital transformation strategy. As well as SMS, they also display rich media and interactive content every 30 seconds for retailers and passengers, with the personal message capability active between 07:30 and 11:00 every day.
Andrew Brodie, General Manager Terminal Retail and Commercial, Brisbane Airport, said the new digital screens not only look impressive, but that SMS interactivity has been positively received.
"It is a great initiative to engage with travellers and visitors, and create ambience within the terminal which is both rewarding and beneficial for our passengers and retailers," he said. "Our retailers can also target and engage more effectively with Chinese and Korean passengers by promoting bilingual special offers aligned to specific flight schedules.  The bilingual ads have achieved an incremental uplift in sales against last year for specific product categories."
Passengers can also view local and international weather forecasts before departing the International Terminal.