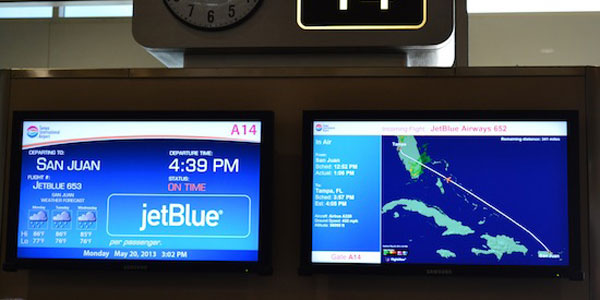 Tampa International Airport has enhanced the travel experience with the introduction of a Flight-in-Sight system, which provides real-time information on an arriving flight as passengers wait at the gate. Current flight information is displayed on a high resolution monitor that alternates between flight status and radar weather provided through Destination Weather Live. The flight status display includes the altitude, speed and remaining distance of the aircraft, as well as the expected arrival time.
Destination Weather Live provides both a national weather map and a local map of passengers' destination. This shows how the weather may be affecting the departure and arrival time of their flight.
The new system also improves customer service for the airlines by freeing up personnel to address more specific questions and attend to those passengers checking-in for a flight.
Tampa International has also updated its free WiFi system, making it faster and allowing for more users at once. Meanwhile, new furniture on the transfer level of the main terminal includes outlets and workspace tables for every seat location.