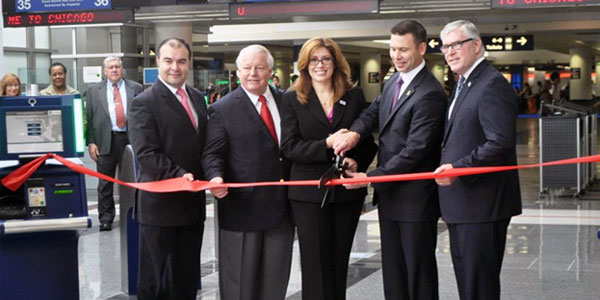 Chicago Department for Aviation (CDA) and U.S. Customs and Border Protection (CBP) have held a ceremony at Chicago O'Hare International Airport to officially launch the Automated Passport Control (APC) kiosks.
The airport is the first in the US to implement the self-service system in the Customs area, which is available to passengers in Terminal 5. A total of 32 kiosks have been installed and can currently be used by US passport holders as an alternative to filling out a paper Customs declaration form. Once they have scanned their passport, had their photo taken automatically and answered a series of questions, passengers are issued a receipt, which must then be presented to a CBP officer to finalise the Customs process.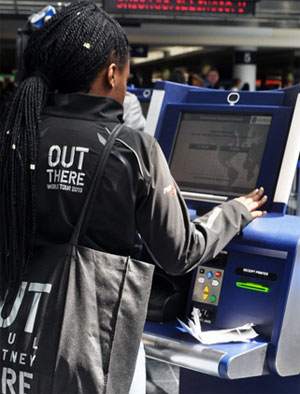 The APC kiosks – which were developed by Vancouver Airport Authority and U.S. Customs and Border Protection – went live on 1 July and during the first 40 days of operation, the average wait time during peak hours was reduced by 33% and the number of passengers waiting for more than 60 minutes has dropped by 58%.
Chicago Department for Aviation Commissioner, Rosemarie S. Andolino, said: "I want to thank CBP and our airline partners for working with the CDA to bring this new technology and better customer experience to O'Hare. Passengers arriving at O'Hare Terminal 5 will experience shorter wait times, less congestion, and faster processing because of this innovative programme."
Milton G. Uribe, Chairman of O'Hare Airline Managers Association, added: "By continuing to streamline the CBP process and provide a high quality visitor experience for the millions of international passengers and returning U.S. citizens, Chicago O'Hare will have the necessary resources in place to keep pace with the expected growth in international travel in the years to come."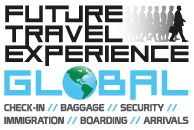 The FTE 'On the Ground' conference at FTE Global 2013, 4-6 September, Las Vegas, will include a Workshop entitled: 'Assessing the viability of the latest self-service and passenger facing technologies'. Chaired by David Bourgon, Manager, Airport IT Services, Las Vegas McCarran International Airport, the Workshop will include speakers from Vienna International Airport, Air France-KLM, Qantas and IBM.