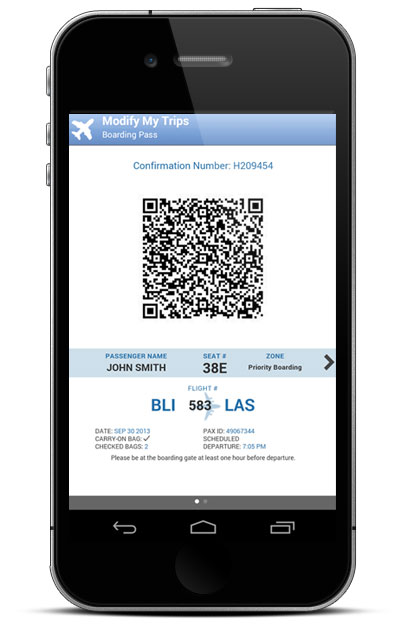 Passengers flying with Las Vegas-based airline Allegiant can now check-in on their mobile phone and access their boarding pass via their device, removing the need to print a paper boarding pass.
The mobile boarding pass capability has been introduced at all 101 airports that Allegiant serves. Fifty-five of these airports did not previously have the necessary scanners in place, so Allegiant funded the new equipment and worked with the airports and the Transportation Security Administration (TSA) to have them approved and installed. Allegiant also involved numerous other carriers in the process to ensure their passengers can use the scanners too.
Andrew Levy, Allegiant Travel Co. President and COO, said: "Allegiant continues to fund innovative ways to create a faster, easier travel experience for our customers while at the same time reducing costs. We're excited to bring mobile scanning technology to even the smallest airports in our network so that every Allegiant customer can benefit."
Scott Allard, Chief Information Officer, Allegiant, added: "Having mobile boarding passes enabled in all of the airports we serve has been a huge project, and we are very pleased to announce its completion. The introduction of these types of convenient, self-service technologies enables us to pass savings on to our customers and keep our fares lower than other carriers."
The airline's 'Allegiant-To-Go' app is available for iOS and Android devices and now enables passengers to check-in, choose their seat, purchase priority boarding and additional baggage, and receive their boarding pass.