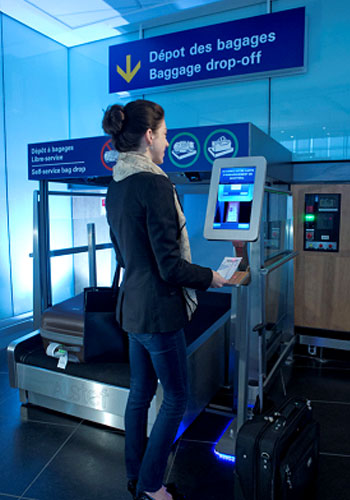 Aéroports de Montréal (ADM) and ALSTEF Canada have unveiled eight new common use self-service bag drop stations, allowing any US-bound passenger flying with any airline to complete the bag drop process independently.
The eight bag drop stations were previously manned common use bag drop units, but the conversion to a self-service system will allow more passengers to make use of a 'do-it-yourself' option in the transborder area.
James Cherry, President and CEO, ADM, said: "The new self-serve system aims to enhance the user experience and make US-bound passengers' route through the airport terminal even more fluid. The system is very easy to use and has quickly been adopted by nearly 50% of passengers. We can proudly say that this self-serve system, usable by all airlines, is a world first."
Pierre Marol, CEO of ALSTEF, added: "These new drop-offs created by ALSTEF are the result of our continued innovation.
"This system is both intuitive and easy to use for passengers, and at the cutting-edge of technology to meet all U.S. Customs and Border Protection security requirements."