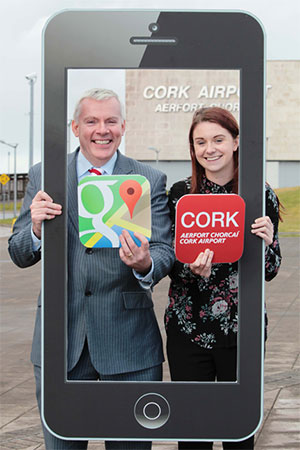 Cork Airport has become the first Irish airport to let passengers view detailed, three-dimensional maps of all public areas of the airport using Google Indoor Street View.
Using more than 840 stitched images, the service allows passengers to take a virtual tour of the terminal, and its introduction coincides with the launch of a new airport app for iOS and Android devices.
Niall MacCarthy, Managing Director of the Dublin Airport Authority-operated Cork Airport, said: "Cork Airport is delighted to be the first Irish airport to offer Google Indoor Maps and we worked closely with Google to make these new mapping services as comprehensive and detailed as possible.
"As part of Cork Airport's ongoing commitment to providing world-class customer service, we are continually striving to innovate and improve the passenger experience. These latest developments will make it easier than ever for passengers travelling to and from Cork Airport as they offer a reliable guide for all airport users, whether frequent travellers or a first-time visitor to Cork Airport."
The new digital initiatives are part of a wider €3 million investment by Cork Airport to improve the passenger experience, which includes upgrading the baggage security screening system, introducing new technology for the screening of liquids, aerosols and gels, and upgrading the customer information desk.
Google Indoor Street View is now available in a number of airports. Read our recent article, which explores whether mobile technology is making it more difficult for airports to define their own passenger experience.