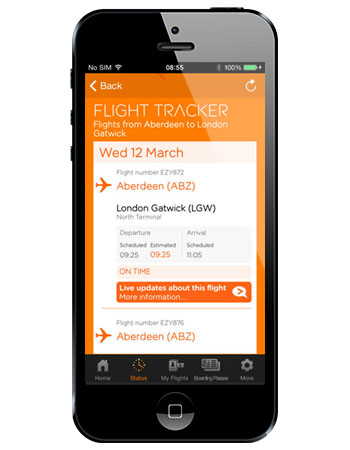 easyJet has added a push notification service to its iPhone app, allowing customers to opt-in to be proactively informed of information relevant to their specific flight.
Passengers can choose to receive push notifications informing them when online check-in opens, when travel documentation information needs to be added to a booking, and when their flight status changes.
Users can then access the relevant page of the app in just one swipe directly from the notification if they wish to take any immediate action. The low-cost carrier hopes the new function will help to raise awareness of its Flight Tracker tool, which offers passengers access to real-time flight information up to 48 hours before departure.
Peter Duffy, Commercial Director, Customer, Product and Marketing, easyJet Group, said: "The use of push notifications will transform the way that we communicate with our passengers. It's yet another way in which easyJet is using technology to keep our passengers informed.
"We'll be providing them with targeted messages and helpful reminders at various steps of their easyJet journey to make things even easier for them when they're on the move."