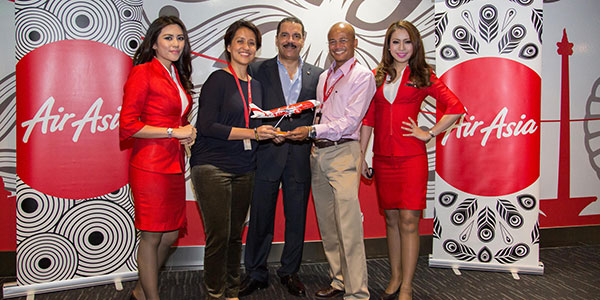 AirAsia will be the first airline in the world to trial INTERPOL's I-Checkit system, which checks passengers' passports against the global Stolen and Lost Travel Documents (SLTD) database, in an effort to increase air travel security.
The I-Checkit system will be integrated with AirAsia's own check-in systems during the passenger check-in process across the entire international network, allowing the airline to check passport numbers against INTERPOL's SLTD database, which contains more than 40 million records from 167 countries.
No personal data will be transmitted to INTERPOL, as only the travel document number, form of document and country code will be screened in a process that takes less than 0.5 seconds. Should a passenger's passport register a positive match against the database, AirAsia will refer the passenger to local authorities, and INTERPOL's procedures will simultaneously be engaged to notify all relevant INTERPOL National Central Bureaus worldwide.
Tony Fernandes, AirAsia Group CEO, said: "AirAsia is extremely pleased to be the first airline globally to collaborate with INTERPOL to implement I-Checkit." He went on to say that the partnership will provide passengers with "added assurance" when travelling by air.
INTERPOL Secretary General Ronald K. Noble, commented: "This will raise the bar across the industry for passenger safety and security by preventing individuals using stolen or lost passports from boarding international flights. AirAsia has established the new standard for airline security by screening the passports of all international passengers against INTERPOL's database. After today, airlines will no longer have to depend solely on countries screening passports to keep passengers safe from terrorists and other criminals who use stolen passports to board flights. Like AirAsia, they will be able to do it themselves as well."
At present, less than 10 countries systematically screen passengers' passports against the SLTD database, and in March this year, the problem surrounding the issue of passengers travelling on stolen passports was placed in the spotlight, when it was revealed that two passengers on Malaysia Airlines flight MH370 were in possession of lost or stolen passports.