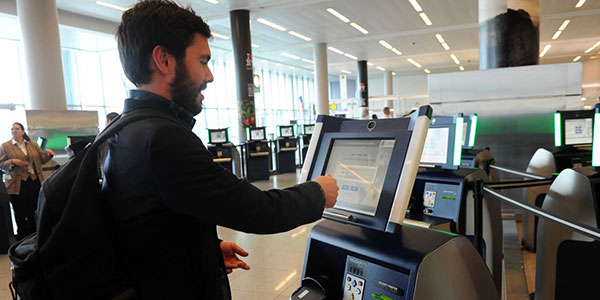 Vancouver International Airport and Chicago O'Hare International Airport have rolled out the latest generation of the Border Xpress Automated Passport Control (APC) kiosk, which can be used by arriving passengers from 38 countries, rather than travellers from only the United States and Canada.
A number of North American airports have installed the FTE Award-winning Border Xpress kiosks since they were launched in 2013, but this new version makes use of the latest biometric technology from Cross Match Technologies, which enables international travellers with Electronic System for Travel Authorization (ESTA) to use them. Travellers from 38 countries, including Australia, Japan, Germany and United Kingdom, can use the kiosks, as opposed to queuing up for manual processing by a U.S. Customs and Border Protection (CBP) officer.
According to Vancouver Airport Authority, the updated kiosk reduces the CBP inspection process by 89%, and lowers overall waiting times at the customs checkpoint by 50%.
Craig Richmond, President & CEO of Vancouver Airport Authority, said: "Our goal is, and always has been, to lead the transformation of the travel experience. By expanding our Automated Passport Control capabilities to include travellers from visa-waiver countries, we are continuing to help modernise for improved efficiency and customer satisfaction."