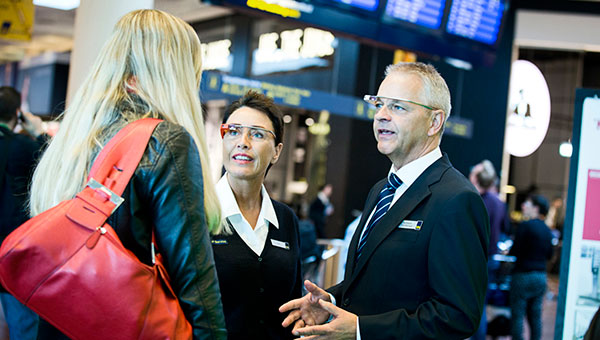 Copenhagen Airport has successfully completed a trial of Google Glass, having equipped two members of its airport service team with the devices in a pilot undertaken alongside SITA Lab.
During the trial, the two members of staff used Google Glass to undertake a number of tasks. For example, they used the wearable technology devices to help answer passengers' questions relating to their airport journey, meaning passengers didn't have to queue up at the customer service desk. Also, given the common use nature of the airport facilities, if members of one airline's staff left the departure gate area in an untidy state for the next airline using it, Google Glass was used to document the issue via photos and videos.
Marie-Louise Lotz, Director Customer Care at Copenhagen Airport, said: "The feedback from our passengers and service team has been overwhelmingly positive. We found Google Glass very easy to use and more user-friendly than other devices such as tablets.
"We can reduce the amount of paper our Duty Managers need to carry to give great customer service, such as duty rosters, desk allocation sheets, peak prognosis, passenger numbers and cruise arrivals. And because the devices are hands-free, our managers are not focusing on a screen and can engage better with our passengers."
Speaking at the SITA Air Transport IT Summit in Brussels, Renaud Irminger, Director of SITA Lab, explained that other potential uses have also been identified as a result of the trial with Copenhagen Airport. These include using Google Translate via the device to help overcome language barriers when communicating with passengers, and linking the software with the airport and airline systems so the agents can view real-time flight information via Google Glass.
Irminger pointed out that short battery life and overheating issues still need to be overcome, but explained that the trial in Copenhagen – which follows a pilot with Virgin Atlantic at Heathrow Airport earlier this year – can be considered a success thanks to the "very positive feedback" from both staff and passengers.