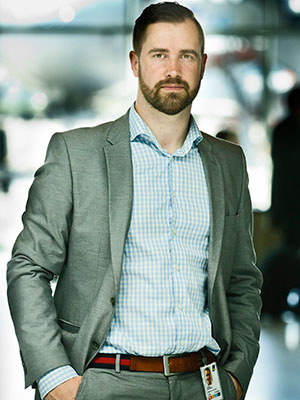 Continually improving the airport experience for passengers while throughput rises year-on-year is easier said than done, but for Copenhagen Airport it has become very much the norm. The Danish airport has defied the economic downturn to consistently post growth in annual passenger numbers, and its position as a passenger experience benchmark-setter also remains intact, having again this year been named Best Airport in Northern Europe in the SkyTrax awards.
While investment has been rife – the airport has recently renovated Terminal 2 and rebuilt Pier C – it has been just as much about improving the facilities as expanding them, which means enhancing processing has largely relied on making better use of existing space.
"What we have been doing for the last couple of years is trying to use our infrastructure in a more efficient way," Thomas Hoff Andersson, Director Airport Optimisation at Copenhagen Airports, told FTE.
"So, instead of necessarily building in order to cope with the passenger growth, we have been trying to utilise our current facilities in a more efficient way. That is bringing in new competences to the airport, adding people with a background in applied mathematics, for instance, in order to design algorithms to improve our operational planning."
Sensor-based predictive modelling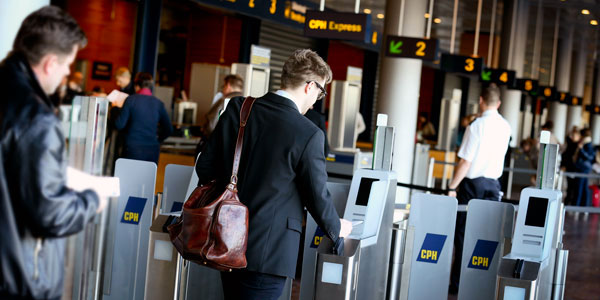 This approach has centred on using predictive modelling and since late-2013, the airport has used a sensor-based system developed by Xovis to measure the passenger flow and waiting times in Terminal 2 airline by airline. Planning the connections between key parts of the travel value chain has enabled it to create daily forecasts to ensure terminal space is constantly being used to its maximum potential.
"Many airports would work with seasonal forecasts," Andersson explained, "but we do 365 forecasts each and every year, so every day for us is unique. We also try to predict when the passengers will arrive throughout the day, so we have the profiles divided into five-minute intervals, and based on that, we do the dynamic allocation of check-in counters, for instance."
This constant forecasting also applies to the security checkpoint to provide a detailed view of which lanes should be open and when, to "save operational expenditure" and to "secure the passenger experience in terms of offering the shortest waiting time possible". The fact that Copenhagen Airport has also been presented with the 'World's Best Security Processing' award by SkyTrax for the past two years suggests the approach is working perfectly well.
15-second self-service bag drop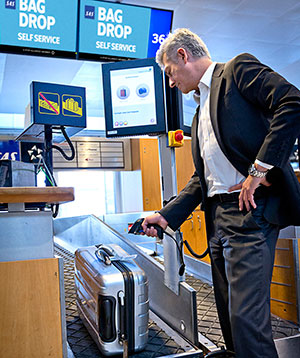 This desire to optimise every corner of the terminal was key to Copenhagen Airport's investment in a self-service bag drop solution in November 2013. Twelve new units were installed for SAS Scandinavian Airlines and Norwegian, and Andersson revealed that a little over six months on, the decision to opt for a two-step process has been vindicated.
"What was the main driver for us was simply to utilise every square metre in the most efficient way," he stated. "The processing times are really impressive. What we see now is a processing time of around 15 seconds, which is amazing according to European benchmarks, and also benchmarks in other parts of the world."
This 15-second processing time applies, of course, to the second part of the two-step process – namely the bag drop itself – as passengers also have to spend time printing their tags at kiosks and attaching them to their bags.
"What we tried to do to create a better flow for the passengers was to move the kiosks to the outer parts of the terminal and make them do the check-in and tagging in these outer parts, so when they're ready and when they have tagged their own baggage, they just have to drop it off on the self-service bag drop. Then just 15 seconds later they're on to security. We do understand that depending on the space available, an airport might choose another solution, but for us the best solution was definitely to go for the two-step process."
Satisfying CPH's vision for the future
Clearly, the combination of investing in upgrading facilities, employing experts in applied mathematics and utilising detailed forecasting software is having a positive effect on passenger and baggage processing, and, in turn, helping Copenhagen Airport maintain its position as a passenger experience leader.
Andersson and his colleagues do still have their work cut out, though, because at the start of this year, Copenhagen Airport CEO Thomas Woldbye presented a future vision for the airport to handle up to 40 million passengers within the next 25 years – 16 million more than in 2013. Reaching this ambitious target will be an achievement, but simultaneously maintaining the high levels of passengers and baggage processing will, perhaps, be an even greater feat.