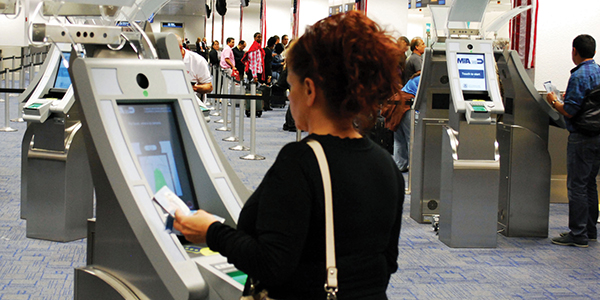 Travellers from the 38 countries participating in the US Department of State's Visa Waiver Program (VWP) can now use the automated passport control (APC) kiosks at Miami International Airport (MIA).
The kiosks, which automate the arrivals immigration process and remove the need for passengers to queue up to see a U.S. Customs and Border Protection (CBP) officer – have cut waiting times by 40% since last November.
"We project that 6,000 more passengers per day will receive expedited passport screening at MIA now that travellers from VWP countries are able to use our self-service kiosks," said Miami-Dade Aviation Department Director Emilio T. González.
"We look forward to soon doubling our number of kiosks, gaining approval from CBP to process legal permanent residents, and further improving the arrival and connection experience at MIA"
In May 2014, Vancouver International Airport and Chicago O'Hare International Airport also extended their automated passport control kiosks to include travellers from visa waiver countries.