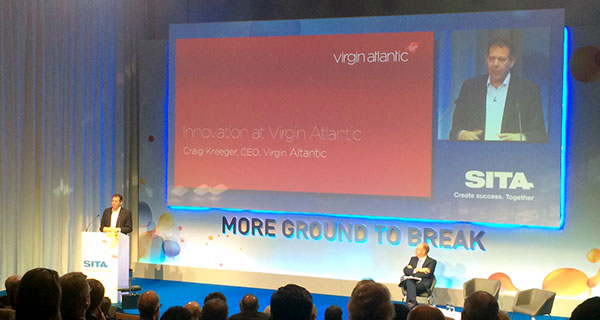 FTE was at the SITA Air Transport IT Summit in Brussels this week, where the CEOs of Virgin Atlantic, San Diego County Regional Airport Authority and the International Air Transport Association (IATA) outlined how they are using IT developments and new technology to improve the travel process. We were naturally pleased to hear about a selection of innovations that have the passenger at their heart, ranging from confirmation that Virgin Atlantic will deploy Google Glass more widely following the successful trial at Heathrow Airport, to San Diego International Airport's ongoing consideration of new technologies, including beacons, that could soon be implemented to improve the passenger experience.
Virgin Atlantic to 'productionise' Google Glass; facial recognition FIDS next?
Having provided an overview of how Virgin Atlantic Airways has invested heavily in improving the passenger experience in recent years, Craig Kreeger, the airline's CEO, announced that the carrier will be "productionising" Google Glass following the successful trial of the technology in the Upper Class Wing at London Heathrow Airport's Terminal 3.
While admitting that "we don't have a definitive date or rollout plan" at the moment, Kreeger explained it is likely that Google Glass will be introduced beyond Heathrow Airport.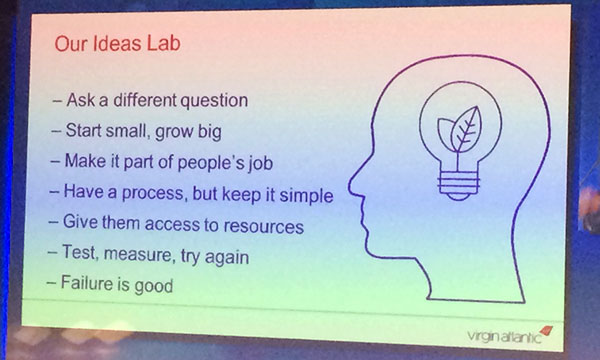 Kreeger also explained what lies at the heart of Virgin Atlantic's impressive history of innovation. "Innovation requires structure," he said, highlighting the airline's 'Ideas Lab'. In this initiative, members of staff are encouraged to embrace innovation, without fearing the repercussions of failure. "You have to encourage people to fail" in order to identify new, feasible, effective solutions, Kreeger stated.
Interestingly, Kreeger also hinted at a potential pilot project in which facial recognition technology could be used to identify passengers when they look at flight information display screens (FIDS). The idea could be for the screens to automatically display that specific passenger's flight details, saving them having to search for the relevant details. Kreeger wouldn't, however, be drawn further on a potential trial, but FTE will keep you posted as and when we hear more about this.
San Diego International Airport: Outdoor check-in and bag drop, tablet-equipped agents and (maybe) beacon technology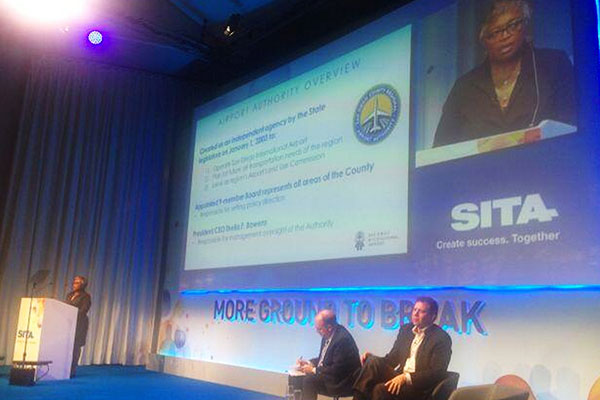 Thella Bowens, CEO of San Diego County Regional Airport Authority, also revealed how the airport is using technological advancements to not only speed-up processing, but also make the airport experience more enjoyable.
One of the more unique passenger-oriented facilities, she explained, is the outdoor check-in and bag drop area, which includes self-service kiosks, agent-manned desks and bag drop belts, which feed directly into the baggage handling system. "It gives passengers the opportunity to enjoy the unique San Diego weather and the views of San Diego Bay one last time," Bowens explained.
She also revealed that self-service is being used elsewhere in the airport. For example, baggage recovery kiosks are in place in the baggage reclaim hall for passengers to report mislaid luggage, but a high number of passengers reportedly tend to bypass them in favour of speaking to an agent if they have any baggage-related issues.
Tablets are also being used to conduct passenger surveys in the terminal, and Bowens revealed the airport is also "looking at tablets to enhance the concession experience", while beacon technology is also being tentatively considered. "Passengers are interested in an experience and information tailored to them, but they don't want to be overwhelmed."
Bowens also had another word of warning for fellow airports and airlines keen to exploit the potential of mobile technology. "We need to make sure we provide consistent data across all channels," she said. "The overall strategy must be considered carefully so technology does become an enabler and not just another source of stress."
IATA: Regulators must keep pace and airports need to improve Wi-Fi
Director General and CEO of IATA, Tony Tyler, was keen to highlight the importance of keeping customers happy both to encourage brand loyalty and to convince travellers to use air travel over competing modes of transport.
The fact that the industry knows what travellers want – for instance, two-thirds would prefer to check-in online or automatically, and 63% would like to use self-boarding gates – should be used to airlines' advantage. The Fast Travel programme and New Distribution Capability (NDC) are examples, he said, of how IATA is actively promoting technological advancements across the travel value chain, while Smart Security also has the potential to make a significant and positive difference.
Tyler did, though, highlight a few areas in need of more improvement. He bemoaned the fact that regulators sometimes hold back valuable developments – for example, EU regulations are currently preventing the widespread rollout of home-printed bag tags on international flights within Europe.
As for airports, he pointed to Wi-Fi as something that needs to be improved. "We're not going to get far" until passengers can easily connect to free Wi-Fi in the terminal building in all airports. At the moment it is often "too difficult, too complicated" to connect. Wi-Fi should not be seen as a "money earner in itself", he added. "I think you need to have a broader view than that."
'Unlocking the industry's potential depends on IT advancements'
FTE was impressed with the commitment on show in Brussels to exploring how new technology can be used to improve the passenger experience, and given the level of debate around beacons and wearables, our previous view that these technologies will play an important role in improving the passenger experience has been reinforced.
Tony Tyler's comment that "unlocking the industry's potential depends on IT advancements" is one that cannot be disputed, but, as Thella Bowens suggested, ensuring technology simplifies the travel process and doesn't add another layer of complexity is vital.
Airports, airlines and SITA were all keen to share what they're doing to help improve air travel and the passenger experience in the conference, and this openness and willingness to share ideas and collaborate to identify the best solutions needs to be put into practice across the industry to ensure travellers can be assured of the best possible travel experience regardless of which airline they are flying with or which airports they are flying to and from.