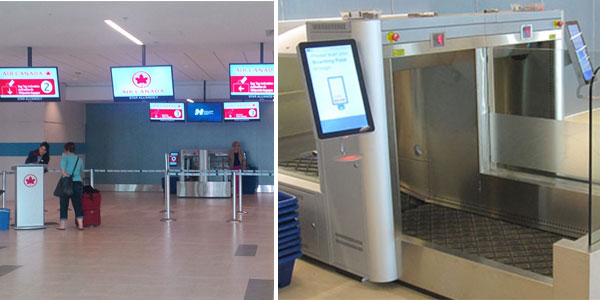 The new-look check-in hall at Halifax Stanfield International Airport is significant for a number of reasons. Firstly, the scale of self-service on display is a rare sight in a North American airport. Secondly, the development and implementation of the self-service bag drop system required close collaboration between the airport and key airline partners, with no fewer than 11 airlines all using the mutually beneficial solution. And thirdly, the project was directly inspired by Future Travel Experience!
In May 2013, Halifax International Airport Authority (HIAA) set out on a mission to upgrade and expand the main check-in hall of the terminal building at Halifax Stanfield International Airport. A little over a year later, the single-storey facility has been transformed into a spacious, two-storey concourse, with a modern baggage handling system and 16 common use self-service bag drop units.
"The check-in hall was becoming increasingly congested during peak periods," explained Michael Healy, Vice President, Infrastructure & Commercial Development, HIAA. "We could have addressed this by building more space and expanding the hall, but we believed that new processes and technology offered a better solution."
FTE was delighted to learn that the Future Travel Experience Global events provided a key source of inspiration for Healy and the HIAA team during the planning and development phases. "HIAA has been attending FTE conferences since they started in 2006," Healy stated. "It is through the knowledge we've gained through these conferences, and the contacts we've made there, that we've been able to create an outstanding experience for our passengers."
Eleven airlines, one common goal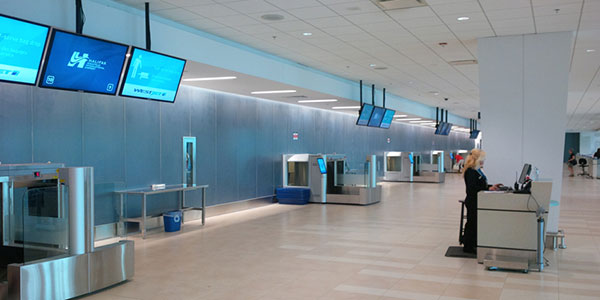 With a total of 11 airlines operating from the terminal, HIAA identified a common use solution as key to improving passenger flow and optimising throughput. Two airlines – Air Canada and WestJet – account for around 80% of traffic, but all 11 airlines had an important role to play in the project. So, how exactly does the finished product work?
"The two airlines which carry a combined total of 80% of the passenger base are using a fully developed two-step check-in model in which the passengers use self-service kiosks to print boarding passes and bag tags before proceeding to bag drops," Healy explained. "The remaining airlines issue bag tags at an agent-assisted counter and then the passenger proceeds to the bag drop to self-check their bags."
However, the facility has been designed in such a way that when each of the other airlines develop full self-tagging capabilities, they will be able to seamlessly switch to a full self-service model.
HIAA's commitment to leveraging technology
"In Halifax, over the last number of years, the organisation has made strategic investments in 'enabling' technologies to allow new and innovative technology solutions to take shape quickly. This new bag drop solution is one of those solutions," Mike Maxwell, Director, Business Solutions and Information Technology at HIAA, told FTE.
The airport was already operating with the latest CUPPS and CUSS compliant common use platform, it has robust wired and wireless networks, and an industry leading data integration platform. This integration platform is what makes the entire solution work by ensuring that each and every bag has a message received from the airline and, in turn, the bag processing messages are returned.
With these technology services and insight into the future of the industry, the airport authority was able to work with partners who are experts in their functional areas, and bring together a significant accomplishment that will help define new check-in halls across the continent.
Two-step bag drop
As for the bag drops themselves, the units were supplied by IBM and run a CUSS 1.3 platform. Air Canada has deployed its own application for passenger processing, and the other 10 carriers take advantage of the common use application provided by the airport, which was developed in partnership with FTE Global 2014 exhibitor Brock Solutions.
Healy explained that HIAA was keen to find the solution that was "as automated as possible for the passenger". He added: "One of the critical features was it needed to run on a CUSS platform, as the airlines told us they wanted to be able to run their own applications."
Outlining the reasons behind opting for a two-step process, Healy explained that one of the airport's primary objectives was to "reduce passenger queuing in the check-in process". He continued: "There are enough self-service check-in kiosks and self-service bag drops so that any passenger using the full two-step model will rarely need to line up. Most passengers are through the entire process in less than two minutes from the time they arrive at the kiosks, to the time they're finished and walk away from the bag drop."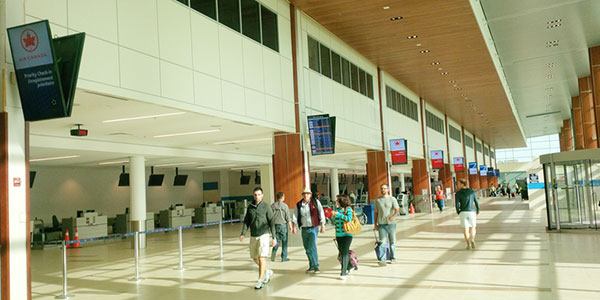 He continued: "To achieve this result using a one-step system, significantly more self-serve bag drops would be required to handle the load. After considering the cost and physical implications of this model, we concluded that the two-step system would work best for Halifax."
There is, however, one "anomaly" in the terminal, to cater specifically for Air Canada's premium passengers. To offer them an alternative to the self-service check-in and bag drop, Air Canada has two customer service desks at one end of the check-in hall, which are connected to the baggage handling system, for those travellers that prefer face-to-face customer service.
Self-service uptake 'exceeding expectations'
While the development of this truly 21st century check-in hall is an accomplishment in its own right, the best news is that passengers have responded overwhelmingly positively to the 'do-it-yourself' approach. Healy said uptake has "far exceeded our expectations", which sets a great precedent for the future.
Healy, Maxwell and HIAA as a whole are rightfully proud to have developed such a comprehensive and effective self-service offer for its customers, and FTE is equally pleased to hear that our own efforts have played a tangible role in helping to enhance the passenger experience.
HIAA to present on major self-service project in Airport Terminal of the Future Forum at FTE Global 2014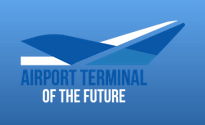 Halifax International Airport Authority's Dean Bouchard, Director, Infrastructure will take part in the Airport Terminal of the Future Members Forum at FTE Global 2014, which will take place in Las Vegas from 24-26 September 2014.
Dean will deliver a presentation entitled: 'Designing and delivering the first fully self-service check-in hall in North America', in which he will offer an in-depth insight into how Halifax Stanfield International Airport's check-in hall has been successfully transformed into a future-proofed, common use self-service facility.
» More information on FTE Global 2014
» Register to attend FTE Global 2014