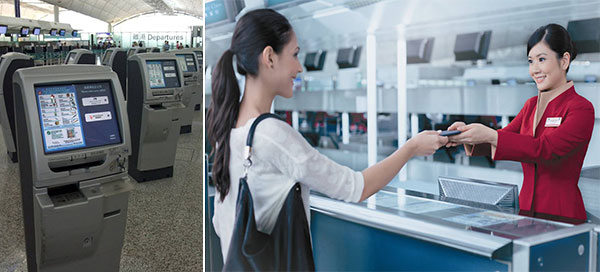 Having carried 23.5 million passengers in the first nine months of 2014, Cathay Pacific Airways is all too aware of the need to ensure that passenger processing is continually optimised to ensure enhancements to the travel experience complement the traffic growth. As FTE recently reported, the Hong Kong-based carrier, which is the current holder of the SkyTrax 'World's Best Airline' accolade, has made significant upgrades to its onboard products and services, but that does not mean to say what happens on the ground has been pushed to the back of the management's minds.
At the heart of the airport-related developments is a significant investment in a Departure Control System (DCS) upgrade. Speaking to FTE, Russ Fortson, Manager Customer Services & Product Development – Airports, explained: "Cathay Pacific is in the process of implementing Altéa Customer Management, a replacement for our current legacy DCS. This new system will enable us to further explore and introduce self-service on a level we have been unable to accomplish up to this point."
The aim, Fortson outlined, is to create a more "seamless airport experience", and as self-service uptake continues to gain traction across Asia, this investment appears to be well timed. "As airport customer-enabled solutions in Asia become more mature and widespread, the demand for leading, customer-focused self-service will increase in the region," he said. "In certain markets we already see strong demand for a seamless customer-enabled, paperless journey and this trend will surely increase."
When asked how exactly the new DCS can bring about advantages for passengers, Fortson continued: "At a relatively high level we are in the process of developing plans to capitalise on the various advances in the airport customer experience that our new Departure Control System, Altéa, will enable."
'It is all about the people'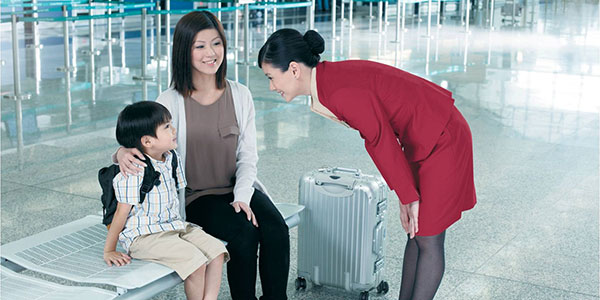 As with the airline's strategy to create a standout in-flight experience, a major focus on the ground is placed on customer service, which suggests the apparently inevitable future investment in self-service facilities will complement, not replace, the investment in improving face-to-face, staff-to-customer interactions.
"It is all about the people," Fortson stated. "We strongly believe that our people are one of the biggest differentiators and competitive advantages that Cathay Pacific has, and as such we continuously invest in training, development and technology to support our teams across the network in delivering the very best service.
"We consistently reinforce the imperative of giving our customers many reasons to travel with us again and again, so we have empowered our frontline teams to make a difference whenever possible on an individual as well as collective basis."
To ensure the right balance between self-service and agent-led processing is achieved, Fortson said a "comprehensive learning and development programme" is now being undertaken. This, he explained, will "ensure our frontline teams are equipped to engage our customers in an increasingly customer-enabled airport environment; in other words consistently seeking and seizing opportunities to surprise and delight our customers".
Surprising customers is one thing, but if Cathay Pacific can get this combination of technology and customer service right, the "delight" should soon follow, helping the airline cement its position among the industry's elite.