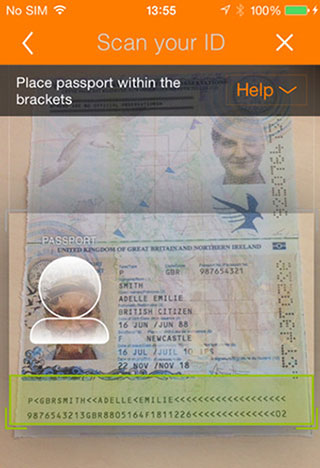 EasyJet has added a new passport scanning function to its iOS and Android apps, which enables customers to scan their passport details using their smartphone. The service helps to speed up the mobile check-in process, as passengers will not have to input their passport details manually.
The UK-based low cost carrier becomes the first in Europe to offer such a service through its app, although United Airlines has offered mobile passport scanning in the US since August 2014.
James Millett, Head of Digital at easyJet, told FTE: "At easyJet we're always looking for ways to make travel easier. We knew from customer feedback and our own experience how long it takes manually inputting passport information, so were looking for innovative ways to make it simpler and faster.
"It takes about two seconds to scan your passport information in and significantly longer inputting manually. All in all you can now check-in (using a smartphone) in less than 20 seconds, which is why more and more customers and doing it."
EasyJet has partnered with credentials management company Jumio – the same company that United Airlines partnered with – which verifies the document once it has been scanned.
Millett also explained that more than 10 million of easyJet's passengers have now downloaded a mobile boarding pass, and said he expects this number to continue to grow. "The trend line is only going one way," he stated. "Customers are interacting with us increasingly through mobile and we'll continue adding features that add value, make it easier and put information literally in their hands."
EasyJet has been rolling out various new features for its app over the last 12 months, and in July announced that it was starting an iBeacon trial to establish how the technology can help improve the passenger experience at London Gatwick, London Luton and Paris Charles de Gaulle airports.