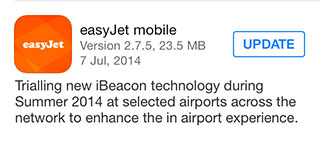 easyJet announced this week that it will be the latest airline to trial iBeacon technology, with pilots getting underway this summer at London Luton, London Gatwick and Paris Charles de Gaulle airports. Of course, easyJet is not the only airline to take a keen interest in this new technology – Virgin Atlantic has been trialling the Bluetooth Low Energy (BLE) devices in the Upper Class Wing at London Heathrow Airport's Terminal 3, and American Airlines last month announced the industry's biggest iBeacon deployment to date at Dallas/Fort Worth International Airport.
While easyJet's implementation of iBeacons at the three airports is officially being called a "trial", having spoken to the low-cost carrier's Head of Digital, James Millett, it seems clear that this is just the start of a much bigger project.
Millett explained to FTE that making use of innovative, new technologies to simplify the travel process "is what easyJet is all about". "We're always looking for opportunities to make things easier for our customers," he said. He highlighted the fact that the easyJet app has been downloaded more than 9 million times, while the recent introduction of a push notification service – which makes use of an intelligent mobile push engine from Dublin-based Mobile Travel Technologies – and the Flight Tracker tool are evidence of the importance the airline sees the smartphone playing in airline-customer interactions going forward.
iBeacons offer 'incredible opportunities'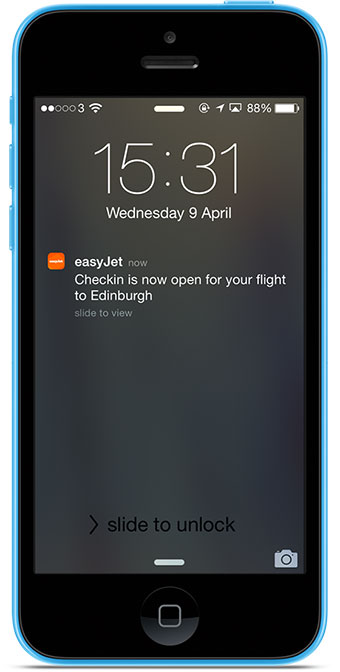 As for iBeacons, Millett and his colleagues have decided to "keep things simple" at first. "We'll use the technology initially at the bag drop and security areas, and we'll use it to remind passengers that they need to have certain documentation ready." This more simplistic approach is focused on ensuring the technology operates smoothly and to gauge passenger reaction.
Looking ahead to the future, though, Millett said iBeacons offer "incredible opportunities". Wayfinding, he suggested, provides one such opportunity – perhaps in the same way American Airlines is using the technology – but he said installing iBeacons across the terminal would allow the carrier to offer more personalised and relevant services.
"If you have customers queuing to check-in golf bags or bicycles, for example, and they're in the wrong queue, we could potentially have a message automatically sent to them via the app to tell them they are in the wrong queue, and direct them to the right one," Millett stated.
iBeacons: an important part of easyJet's mobile strategy
For passengers to be able to make use of this new technology, however, there are two key prerequisites. They must firstly have the easyJet app installed, and they must also have Bluetooth and location services enabled. To raise awareness, when existing app users upgrade the software, they receive an automatic notification informing them of the new feature and how they can make use of it.
So, not every passenger will be in a position to make use of the iBeacons, but Millett is confident the three trials will provide plenty of useful insight. "9.2 million of our 60 million passengers have the app installed, so a lot of people will be able to opt-in," he said, while a multi-location pilot will ensure the "right balance between different customer groups".
For now, Millett says he will "wait to see how iBeacons are received and how the technology works in practice", but it is pretty clear that the technology has a big role to play in easyJet's wider strategy of simplifying the travel experience for its customers.

American Airlines to present on industry's biggest iBeacon deployment at FTE Global 2014
Phillip Easter, Director Mobile Apps and Wearables at American Airlines, will take part in the New Technology Forum at FTE Global 2014, in which he will deliver a presentation sharing the latest findings from the carrier's major deployment of iBeacons at DFW Airport – the biggest project of its kind in the industry. Phillip will be joined in this session by senior figures from the likes of Air France-KLM, Changi Airport Group, IBM and BEEKS Proximity Solutions.
» View the FTE 'On the Ground' conference agenda 
» Register to attend FTE Global 2014