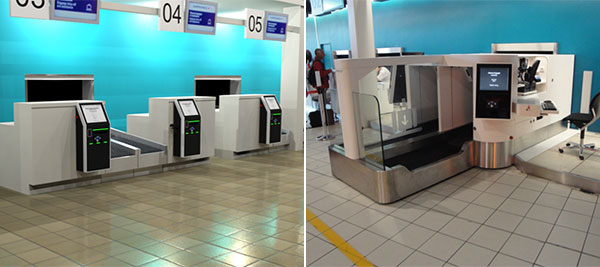 Heathrow Airport and Aéroports de Paris (AdP) will both permanently install new self-service bag drop units, having signed respective agreements with ICM Airport Technics.
ICM has signed a framework agreement for the rollout of Auto Bag Drop (ABD) units across all terminals at Heathrow Airport, while the company has also been awarded a contract to install the technology across Charles de Gaulle and Orly airports in Paris.
The deal with AdP will see 35 of ICM's Series 1 Bag Drops supplied and installed before the end of March 2015. Two ICM Hybrid units have been on trial at Charles de Gaulle Terminal T2G since July 2014. The hybrid unit is a fully automated bag drop that can operate totally unassisted, or it can be manned for agent-assisted mode employing a fully equipped Common Use Terminal Equipment (CUTE) check-in desk.
The framework agreement with Heathrow Airport covers the design, supply, installation and ongoing technical support of the self-service bag drops over the next five years, and also follows successful trials. Mike Sanderson, Managing Director of ICM UK, said it represents the "result of three years of hard work and dedication by the ICM team".
ICM has also announced that Investec Australia Limited has invested in the company's self-service bag drop solution. Investec will provide financing capital to assist new growth opportunities with an option to convert its financing into a controlling stake in the company.