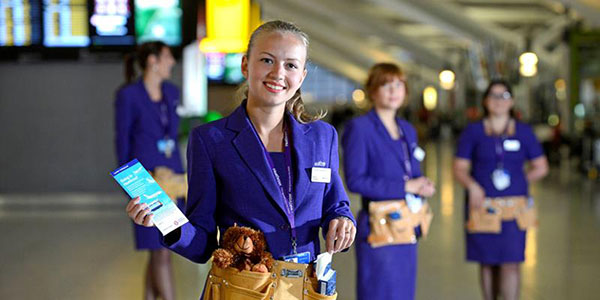 In an effort to improve the passenger experience at the UK's busiest airport, London Heathrow has introduced two new initiatives: Heathrow Helpers and Heathrow Upgrade. Building on the success of the 'Airporters' initiative, in which dedicated customer service agents helped families get from the car parks to the terminals, Heathrow Helpers have now been introduced across the airport.
Between them, the team of Helpers speak 38 languages, plus sign language, and each one has been selected specifically for their personal skillset. Each Heathrow Helper will carry around a tool belt with equipment ranging from mobile phone chargers for passengers who need to charge their devices, to soft toys to help keep children entertained.
The airport has also announced the new Heathrow Upgrade initiative, which will offer premium passengers a dedicated Helper for the duration of their time in the airport, plus a Heathrow Porter to carry their bags. Travellers can also choose to be transported to their gate on their own buggy.
Normand Boivin, Chief Operating Officer at Heathrow Airport, which is an official partner of FTE Europe 2015, commented: "At Heathrow, we see a wide range of passengers travelling through the airport daily, and with this comes a variety of needs and demands that must be catered for.
"That's why our latest trial highlights Heathrow's endeavour to provide a unique and bespoke service to everyone using the airport. Our Heathrow Helpers will be present all week, providing passengers with that extra special treatment."