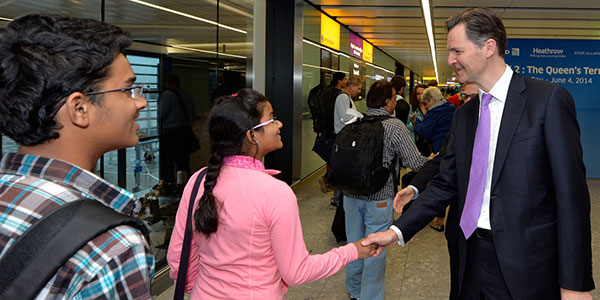 Five months on from the opening of the landmark £2.5 billion Terminal 2: The Queen's Terminal at London Heathrow Airport, all 26 airlines have successfully completed their moves into the new facility, and the 'slow and steady' approach to getting the terminal up to full speed appears to have paid off.
Transferring the operations of the 26 carriers has certainly not been a simple task and its seamless execution has relied on an intricately planned strategy, as outlined by Normand Boivin, Chief Operating Officer and self-described "quarterback of the team", in reference to his responsibility for ensuring the smooth day-to-day running of the airport's operations.
"I need to make sure that Heathrow works and that we have a flow of passengers from end-to-end, so all aspects of passenger service are under my responsibility," he explained. "My main task is to balance the different types of service we provide for the passenger, to ensure they have a seamless journey across the airport, and that the team is on the same page to make this happen." He explained "there's only one dimension of success, and that's movement", suggesting that this "constant flow of traffic" is what will help T2, and Heathrow's other terminals, stand out from the crowd in the long-term.
Intricate IT network
Central to this seamless passenger flow are the common use, self-service facilities, which you can read more about in our recent interview with Star Alliance's VP Customer Experience and Technology. The check-in process is configured in three waves across four zones to give passengers more choice. Wave 1 consists of 66 self-service kiosks, at which passengers can check-in, print their boarding passes and bag tags and tag their own bags, before moving on to the bag drop at Wave 2. 56 traditional check-in desks can be found in Wave 3 – this wave features dedicated premium desks and full service economy check-in desks for those who do not wish to make use of the self-service facilities.
Behind the scenes, however, there is a complex IT network, through which the delivery of shared and timely data provides vital support to Terminal 2's efficient operation. "From a flight's arrival at Heathrow to its departure, the core IT systems and applications ensure that passengers are informed of their flight times and that baggage is correctly sorted and delivered to the aircraft on-time – through to allocating a start-up and take-off slot for the aircraft," explained Neil Clark, London Heathrow's Chief Information Officer.
"These systems also support pan-Heathrow decision-making between airlines, handling agents, air navigation services, local air traffic control, and other agencies such as Border Force, to ensure we deliver a coordinated operation."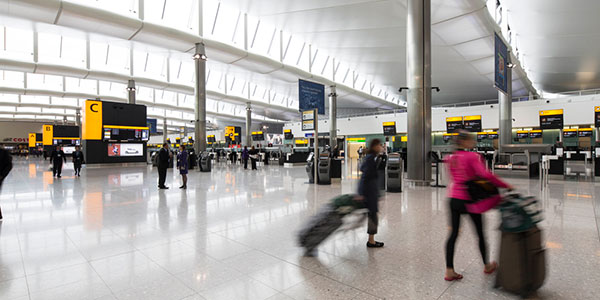 In addition to the facilities the passengers can see – such as kiosks and flight information display screens – the streamlined operation of Terminal 2 relies on an extensive unseen infrastructure that incorporates life safety systems, building management systems, security access points and many other devices. All of this is then underpinned by thousands of kilometres of network cabling, around 32,000 data outlets, 1,800 CCTV cameras and 700 wireless access points, which provide the popular free Wi-Fi service for passengers.
"Our key priority was to protect the ongoing operation, and we successfully managed this without a single incident through a very stringent change control process," Clark stated. "Introducing Terminal 2 into our existing Heathrow IT operation also threw up other challenges," he said. "For example we needed to complete a full upgrade to the existing Heathrow core network to support the increased network traffic generated from Terminal 2. We also upgraded our centralised Flight Information Servers to support the additional screens in T2, as well as our baggage control and management systems to support the new terminal."
More new innovations planned
Clark also revealed that the airport is now exploring other progressive technologies to further optimise processing. For instance, a trial of a CCTV analytics system that provides passenger counting capabilities and automatically alerts the Control Centre to increased numbers of passengers entering the building or queuing at certain check-points has started, to explore how it can help Heathrow more effectively manage and allocate resources.
"Another initiative we will shortly be trialling is an airline application where passengers with iPhones will automatically have their mobile boarding pass presented on their phone screen as they approach key interaction points such as the automated security gates to improve and speed up the passenger process and experience," Clark said, presumably hinting at a use of beacon technology.
'Minimising disruption'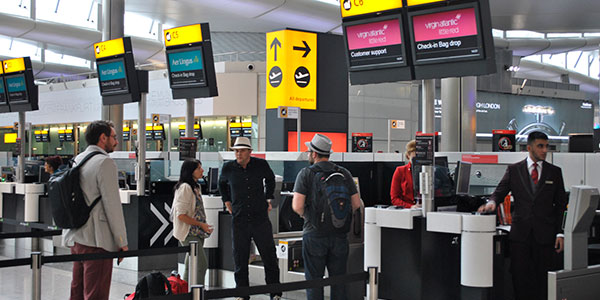 While the staggered approach to moving airlines across to the new T2 has been pretty much as seamless as the airport could have hoped, there were one or two small snags along the way.
Andy Garner, T2 Operations and Programme Director, revealed: "In terms of issues, following one of our moves, we had a problem with the baggage system which was not related to the opening of Terminal 2 – it could have happened at any time." However, the staged approach did minimise the risk of any knock-on effects. "With the move strategy as it was we were able to focus on quick recovery, thereby minimising the disruption to Terminal 2 passengers. Outside of that, we have seen no significant disruption to passengers."
'I want Heathrow Airport to be one of the best in the world'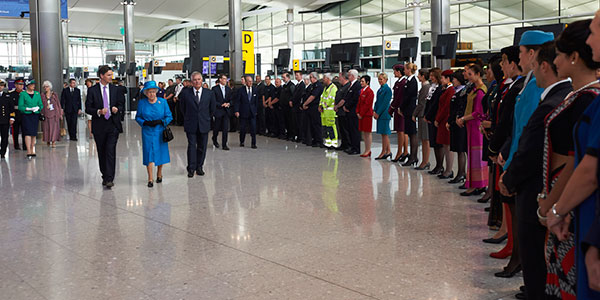 Such has been the positive reaction so far, passengers and airlines have been keen to share their thoughts with London Heathrow's management team, and the man who was responsible for overseeing the development of the impressive Terminal 2 in his previous role as Development Director, and who has since been appointed CEO of the airport, revealed his pleasure at the reaction T2 has received.
"For passengers it just delivers the most wonderful experience," said John Holland-Kaye, Heathrow Airport CEO, who will deliver a keynote address at FTE Europe 2015. "I've had letters from passengers and airlines alike saying how fantastic it is – and the best one I had was a passenger who had taken less than 30 minutes to get from the gate of his plane to the platform arriving at Paddington, which is just extraordinary. It just shows how well-designed the terminal is for getting people through quickly and efficiently."
In spite of the overwhelming positivity surrounding the opening of the The Queen's Terminal, Holland-Kaye explained that he and his colleagues have no intention of taking anything for granted. "I want to take Heathrow from being one of the best airports in Europe to being one of the best in the world," he said, "and we do that by delivering a really fantastic experience for passengers."