Less than one month from now, the new Terminal 2 at London Heathrow Airport will open to passengers, who will be able to take advantage of a seamless airport experience enabled by true common use. The facility will be the new home of Star Alliance at Heathrow, housing a total of 23 of the alliance's carriers, but regardless of which airline passengers are flying with they will be able to enjoy a consistent experience. According to Justin Erbacci, Vice President Customer Experience and Technology at Star Alliance, passengers will be able to move through the terminal "much faster, much more efficiently and at a pace that is more under their control".
"For the passenger, the main benefits are that having us all together means we can do things like common check-in, which gives passengers the ability to choose from many different types of kiosks, check-in desks or bag drops," Erbacci explained. "Instead of having to wait in just their own airline's queues, they can use any of the facilities that we have there in the common check-in area.
"Also, when we're all together in one terminal, the passengers' transfer experience is much faster – it's a much shorter distance that passengers have to walk to get to their connecting flight and it makes it much easier for them if they don't have to go through multiple check-ins and securities to do that."
Grouping carriers together to manage disruption
Star Alliance and Heathrow Airport Limited are confident that the opening of Terminal 2 will be seamless, having made a concerted effort to learn lessons from the troubled opening of Terminal 5 six years ago. However, in the event of any disruption for passengers using the terminal on a day-to-day basis, Erbacci said having the Star Alliance carries grouped together will be another big benefit.
He said: "In times of irregular operations, it provides a huge benefit to customers, because when the Star Alliance carriers and their staff are all located next to each other, it's much easier for them to be able to rebook or to reconnect the passenger onto another flight to get them on their journey."
Collaborating to create a better passenger experience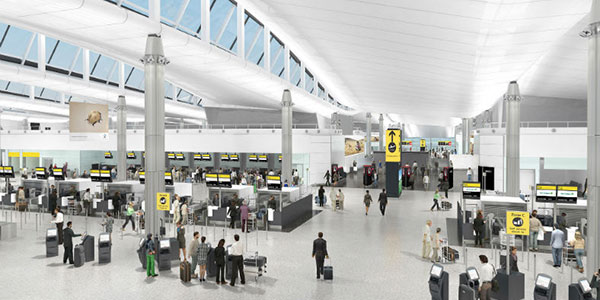 The benefits of grouping all member airlines together under one roof are clear, but the process of making this a reality has been a complex one. Erbacci himself admits that "there are always challenges when you're dealing with multiple carriers and trying to align on processes", but he stated that every airline involved in the process has showed a commitment to "make Terminal 2 work".
"It was a key objective within Star Alliance and had support from the CEOs of all the airlines, so we worked very closely in collaboration with the airlines to find a way that we could harmonise our processes to allow our common system to work," he stated.
"We had to do things like rationalisation of ground handlers, harmonisation of processes such as common bag tags…all different, little things that people don't think of, which cause complexities when trying to do common check-in. It was a lot of work, a lot of compromise, but ultimately the airlines had the common goal of wanting to make this work."
Creating a consistent airport experience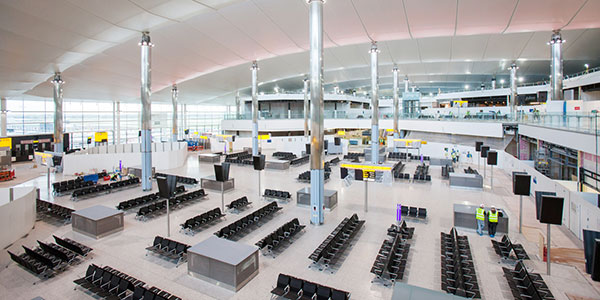 In theory, using common use as an enabler of a consistent airport experience for passengers sounds like a rational approach, and while the proof will be in the performance once the facility goes live, there seems little reason to doubt that this large-scale common use roll-out will be a success.
So, if Star Alliance can create a consistent passenger experience regardless of which airline the passenger is flying with in Heathrow Airport's Terminal 2, would it not make sense for the industry as a whole to aim for a consistent airport experience across all terminals at all airports? After all, it's no secret that passengers would prefer to know where to go and what to expect when they arrive at the airport terminal.
According to Erbacci, airline alliances can help to facilitate this, but he stopped short of saying we should aim for a complete standardisation of processes. "I think we should strive for harmonised processes across all terminals, but I think there are intricacies of terminals that may require there to be different solutions," he explained. "But I think conceptually, everybody would like to get towards that and it will be interesting to see how this model evolves and how successful it will be in harmonising the process. Certainly it will be a benefit for the customers."
Although a globally consistent passenger experience is some way off, when Heathrow Airport's Terminal 2 opens on 4 June 2014, at least its users can expect an easy-to-understand, seamless and efficient journey through the airport.
While it is important to note the role of common use technologies in enabling this passenger experience, it is equally worth recognising that it has been made possible by a willingness among airlines to collaborate for the collective benefit of their passengers.
Heathrow Airport will be an official partner of FTE Europe 2015, which will take place at the Park Plaza Riverbank London from 2-4 February 2015. The airport has announced that John Holland-Kaye, currently the Development Director with responsibility for successfully delivering the new Terminal 2, will become the new Chief Executive Office on 1 July. Holland-Kaye has stated that in his role as CEO, "my aspiration is to improve Heathrow as much in the next five years as we have in the last five years", and at FTE Europe 2015, we hope to offer delegates a tour of the new T2 to highlight exactly how it contributing to Heathrow's strategy of 'making every journey better'.