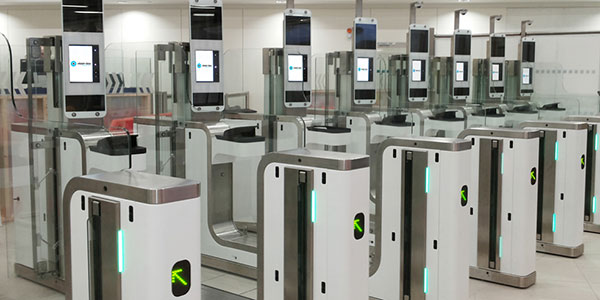 Five new e-gates have been installed in the immigration hall at London City Airport, taking the total number of electronic automated border control gates at the airport to 11. Facial recognition technology is used to securely automate the process, although Border Force officers continually monitor the system and are on-hand to assist any passengers who are rejected by the e-gate.
The e-gates, which were supplied by Vision-Box, can be used by e-passport holders aged 18 or over, and as long as they are a national of the European Economic Area (EEA).
Darren Grover, Chief Operating Officer at London City Airport, which is an official partner of FTE Europe 2015, said: "We are almost doubling the number of immigration lanes at London City so that passengers can get through as quickly as possible on arrival. On average, at London City it takes just 15 minutes from disembarking your aircraft to reaching the terminal exit. We had our busiest month on record this summer but we are determined to ensure that we maintain our high level of service and outstanding passenger experience, and the introduction of e-gates will help us to do exactly that."
Immigration and Security Minister James Brokenshire added: "Keeping the UK's border secure is our priority. At the same time, we want to welcome visitors, tourists, and businesspeople who can contribute to the UK economy. Using the latest technology helps us to do both and is popular with passengers."
Meanwhile, the UK Home Office has revealed that 109 e-passport gates are now in use in a total of 18 terminals across the UK, with more than one million passengers using them every month.
FTE Europe 2015 delegates will be able to see London City Airport's new e-gates in action first-hand by signing up to take part in a guided tour of the airport, which is being hosted by senior representatives from London City Airport.