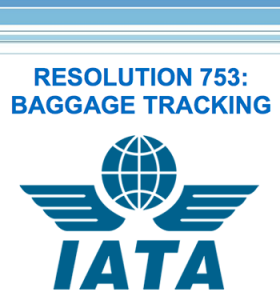 Following IATA's announcement of the new Resolution 753 on baggage tracking, which comes into effect in June 2018, questions have been raised about what this means for airlines, airports and ground handlers, and what steps they may need to take to prepare for the implementation of the resolution.
The full details of Resolution 753 are available on the IATA website, but in short, it states that "IATA members shall maintain an accurate inventory of baggage by monitoring the acquisition and delivery of baggage". IATA members shall be able to: demonstrate delivery of baggage when custody changes; demonstrate acquisition of baggage when custody changes; provide an inventory of bags upon departure of a flight; and be capable of exchanging these events with other airlines as needed.
So, what is the thinking behind the new resolution? Andrew Price, Head of Airport Operations at IATA, told FTE: "During the IATA Baggage Improvement Programme we found that airlines that had good tracking in place for baggage had significantly less mishandling than other airlines in their region. The ability to track bags is a fundamental one that allows a journey to be closed, viability on what is where in a network, and predict flows around the airport.
"Good baggage tracking allows you to know where bags are prior to departure, so proactive action can be taken to retrieve those bags and ensure they make their connections. Without this information you just wait until build close and hope that the bag arrives. Even when this proactive approach is not possible, then being able to provide further information to the passenger about their baggage journey improves customer service."
Baggage tracking benefits
Clearly, reducing mishandling by determining custody of every bag during different phases of the baggage chain and improving customer service are key drivers, but there are also other motivations. Resolution 753 also aims to reduce the possibility of baggage fraud by closing the baggage journey and it will enable exceptions to be detected where baggage is delivered to a party, but not processed further. It will also help to speed up reconciliation and flight readiness for departing flights, help with measuring compliance to Service Level Agreements (SLAs), and provide evidence to an automatic interline proration process.
While some airports already have a high level of baggage tracking throughout their terminals, by 2018 all airports will need to establish if they have the appropriate infrastructure in place to support the requirements of this resolution.
Price continued: "The resolution specifies that the airline must be capable of demonstrating the delivery and acquisition of bags, and specifies three places – aircraft loading, arrivals inject and transfers inject. Often, this will be achieved using existing infrastructure, and airlines, airports and ground handlers should examine their operations to identify gaps and put in place an action plan to close those gaps."
Price also explained that IATA has "worked with the providers of existing infrastructure solutions to explore business models that enable the provision of this capability at a minimum cost", adding: "Mindful that our members can request and agree to any resolution, we are also working with them to make the information collected have a real business benefit in terms of addressing mishandling, and how this information can be used to improve operational efficiency."