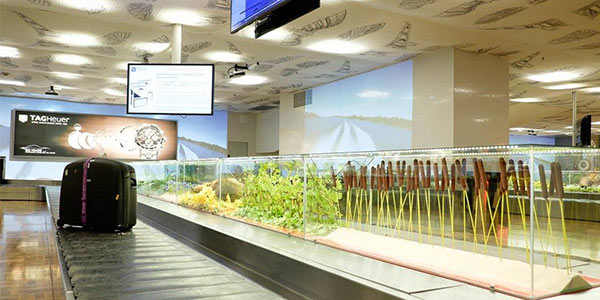 Helsinki Airport has unveiled its new-look baggage hall, which has been designed to reflect Finnish nature and give the airport a real sense of place. The Exit 2B baggage lobby has been redesigned by internationally acclaimed interior architect and sculptor Stefan Lindfors, who has worked alongside Finavia, the operator of Helsinki Airport, on a number of other projects in recent years.
In the new baggage and arrivals hall, glass-encased showcases portraying Finnish plants and wildlife have been placed in between the baggage claim belts and live footage of Finnish nature is projected on one of the walls. The ceiling has been covered with fabric representing wings and the walls are decorated with a circuit board pattern, which was hand-drawn by Lindfors and pays homage to Finnish IT expertise.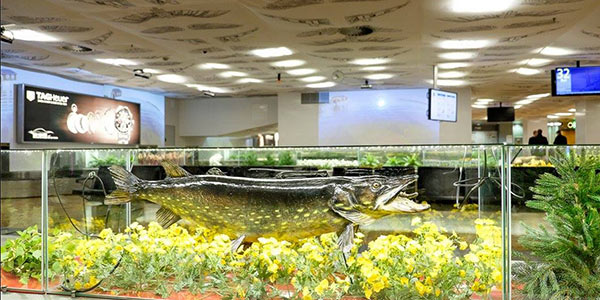 Lindfors explained: "Many airports are very similar in style, whether you are in the Nordic countries, Central Europe or the United States. I want all of my work to really stand out from the others. I want passengers arriving in the lobby to experience something unique and to feel that they have just arrived in Finland."
Ville Haapasaari, Director of Helsinki Airport, added: "Helsinki Airport is Finland's business card and for many passengers the first contact with Finland. That is why it is important that we stand out from other airports in a surprising way. A memorable arrival lobby will leave a positive impression on a passenger and that might make the passenger travel via Helsinki Airport also the next time."
To support this effort for Helsinki Airport to represent the destination it serves, passengers can also visit a free art gallery and art exhibitions at the airport.