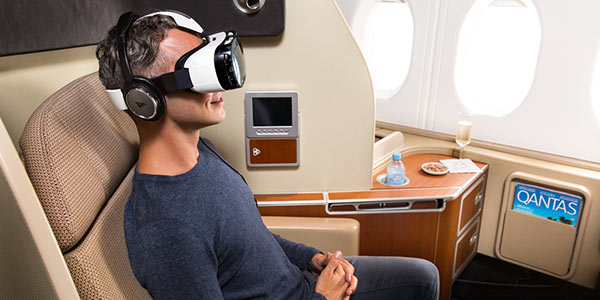 Qantas has teamed up with Samsung Electronics Australia to launch a trial of a virtual reality (VR) entertainment experience for its premium passengers. The Samsung Gear VR technology will offer customers a three dimensional, 360-degree virtual experience, and it will be available in First Lounges at Sydney and Melbourne airports, as well as in First Class cabins on select A380 services from Australia to Los Angeles.
The trial will last for three months and the VR content will include footage of Qantas' network destinations and new Qantas products, as well as movies for those using the headset onboard. The launch of the trial comes just two months after FTE highlighted South African Tourism's pioneering use of virtual reality technology, and encouraged airlines to consider how the technology could be used to improve the passenger experience.
Olivia Wirth, Qantas Group Executive, Brand, Marketing & Corporate Affairs, said: "Whether the user wants a virtual tour of our new Los Angeles First Lounge or experience an A380 landing from the tarmac, this technology gives us a completely new way to connect with our customers.
"From an in-flight entertainment perspective, it's an industry first. Qantas is committed to being at the forefront of innovation to give our passengers the very best and latest in-flight experiences, like accessing the virtual worlds of their favourite Hollywood blockbusters from the comfort of their seat 40,000 feet above the ground."
Samsung Electronics Australia Chief Marketing Officer, Arno Lenior, commented: "Samsung is immensely proud to be working with Qantas to deliver Samsung Gear VR entertainment technology through the airline's first class service, both in the air and on the ground. We believe Samsung Gear VR, one of the latest innovations from Samsung, will open new worlds for Qantas customers who experience the technology for themselves."
Qantas is also working with production company Jaunt to develop and produce the VR content, and the carrier has announced that Tourism NT (Northern Territory) is the first tourism group to partner with them on content creation, with a 3D experience from Kakadu National Park.
The Samsung Gear VR headsets will be introduced in the First Lounges in Sydney and Melbourne from mid-February, and on select A380s from mid-March.