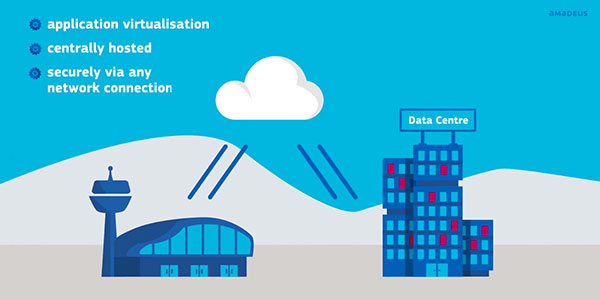 Innsbruck Airport will become the first airport to implement Amadeus' cloud-based Airport Common Use Service (ACUS). Amadeus will also provide the Austrian airport with its Airport Baggage Reconciliation (BRS) and Airport Passenger Verification (PV) solutions.
ACUS will allow airlines and ground handlers at Innsbruck Airport to leverage virtualisation and cloud technology to access passenger processing systems. As John Jarrell, Amadeus' Head of Airport IT, explained to FTE upon the launch of ACUS last year, the platform is hosted in a centralised data processing facility in Germany, which Amadeus says helps to eliminate the costly reliance on on-site IT infrastructure.
The implementation of the Baggage Reconciliation solution will allow for real-time, automated loading, tracking and management of baggage, while Passenger Verification will permit automated passenger checks at various points within the airport using airline DCS data.
Michael Herrmann, Director Airport Operations and Head of IT at Innsbruck Airport, said: "We are committed to optimising airport operations and the overall experience for passengers, and are delighted to be working with Amadeus to make this a reality. With the greater flexibility of these Amadeus airport solutions, we can minimise passenger disruption in unforeseen circumstances, reduce delays, and guarantee a 100% reconciliation rate between passengers and their baggage. Sharing IT resources and using cloud technology will also free up revenue and physical space to be able to develop our commercial offerings for passengers."
Amadeus' Jarrell added: "We are pleased that airports such as Innsbruck are seeing that innovation can indeed occur in common use, replacing older concepts and infrastructure. Airports are facing numerous business challenges today, not least struggling to cope with increasing passenger traffic when aeronautical revenues are declining. Thus our aim is to offer Innsbruck a cost-effective approach to providing more customised and flexible passenger processing. These solutions are part of Amadeus' broader commitment to improve airports' passenger experience and operational efficiency."
» Read the full interview with John Jarrell, Head of Airport IT, Amadeus