The entry of Amadeus into the common use space has got people asking what impact cloud-based solutions will have on traditional common use systems that tend to rely on onsite infrastructure.
The specific product currently in the spotlight is the Airport Common Use Service (ACUS), a next-generation, cloud-based Software as a Service (SaaS) platform that allows airlines and ground handlers to share the physical space and IT resources of the airport, and which Amadeus says helps to eliminate the burdens of hosting and development.
"Most other common use solutions make use of virtualisation, which runs off local servers at the airport, so this is different in that it's a cloud-based solution that is centrally hosted in a single date centre," John Jarrell, Head of Airport IT at Amadeus, told FTE.
"If you centrally host everything in the cloud, you can make one change centrally and that change is then made across all airports in the network, so you don't have to make the change at each of the airports individually. It fixes the problem that airlines have complained about for years."
CUPPS compliant solution
Jarrell explained that ACUS' ability to connect to all airline Departure Control Systems – which is particularly useful for Amadeus given that it "provides DCS services to 25% of passengers checked in globally" – as well as airport applications makes it easier and more cost-effective for airlines that are expanding their network. It is also fully compatible with the CUPPS (Common Use Passenger Processing Systems) industry standard.
"If you're American Airlines running on Sabre, for instance, you have connections from Dallas to Airport A, B, C and so on – you may have hundreds of airport connections." Jarrell continued. "With ACUS, Sabre connects to a single network connection and I can then run all of the network connections from there.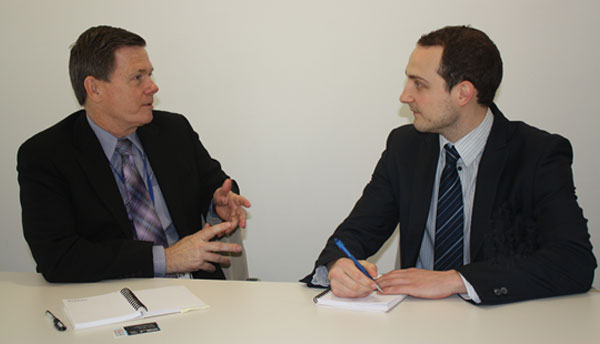 "This takes away a networking business that some of the other providers might not be too happy about, but it definitely benefits the airlines. One of the things the airlines haven't liked, and the thing that CUPPS was supposed to fix in the past, was that everyone would prefer to use their own native application but couldn't. With ACUS though, they can still run their native application hosted in our data centre and provide access to all of their staff around the world."
ACUS trials in Germany and South Africa
It all sounds good in theory, but what about in practice? Jarrell told FTE that live tests have already been successfully undertaken. "Some people have said it's not a good idea to host everything centrally as it takes up a lot of bandwidth and the network costs will be high," he stated. "We don't have this problem though, as we can scale the solution and the bandwidth use is actually low.
"People also mention latency issues. Well, we've tested this in a German airport and the airlines said it is faster than the existing system. You might think it performed well at a German airport because the system is hosted in Germany, but we've also tested it in South Africa, running it from the German data centre, and it was still a lot faster."
Will airports embrace the cloud?
Over the years, airlines have been at the core of Amadeus' business and having witnessed the shift among carriers towards cloud technology, Jarrell said he expects airports to follow suit.
"The airport industry has advanced tremendously from the days of dedicated airline check-in desks towards a much more flexible and shared environment. It is now ready to embrace more change in order to maximise commercial and operational performance, and it can derive huge efficiencies from moving towards a common use service," he said.
"Our platform will enable the airport ecosystem to use its resources much more intelligently, ultimately improving the passenger experience and taking the next step towards becoming the airport of the future."
There can be no doubting the confidence from Jarrell and Amadeus that ACUS could be true game-changer in the common use field, which has traditionally been dominated by the likes of SITA, ARINC, Air IT and the like. Now it will be interesting to see whether the airports agree that cloud computing is the future, and what impact it will have on this competitive sector of the industry.