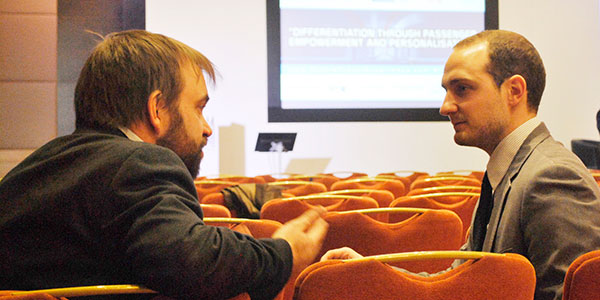 Since the launch in November 2014 of Ryanair Labs, Ryanair's digital and IT innovation hub in Dublin, details of the projects the low-cost carrier is working on have been vague, but at FTE Europe 2015 last week, John Hurley, the airline's Chief Technology Officer, provided a behind-the-scenes look at what Ryanair Labs is all about.
Having told delegates that Ryanair Labs ultimately supports the airline's "customer first" strategy, he explained that it isn't just about optimising the carrier's website, leveraging big data and creating a solid mobile offer for the customer, but genuinely embracing the very latest technology to help improve and simplify the passenger experience.
His reference to wearable technology certainly grabbed the attention, and speaking to FTE after his keynote presentation, he elaborated on how the carrier might use wearables in the near future. "With wearable technology, it's all about creating a better customer experience," Hurley said. "A great example is people get to the airport and they got lost. They're wondering 'are we at gate four or gate five, are we boarding?'
"Imagine that piece of information was actually available on your watch; you could just get a 'ping' saying 'we're now boarding'. You'd have the right information at the right time. The future is micro-moments, it's not browsing through pages of data, and having it on your wrist is the fastest way to get that information."
When FTE questioned whether smartwatches achieving mass-market adoption could impact the current role of smartphones in the travel process, Hurley said he expects the two technologies to complement one another, with Apple's fast-approaching launch of the Apple Watch, which will synch with users' iPhones, likely to spawn huge consumer interest in this space. "Mobile is everything," he said. "Everybody has a smartphone and the desktop is dying, it's becoming a secondary thought. There's so much information on your phone about you that can be utilised…tweeting, location information, having your wallet installed, and so on."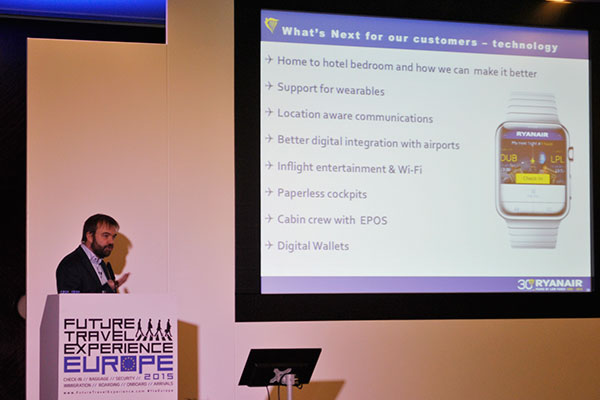 Of course, Ryanair Labs is working on more than just smartwatch-related projects. The airline's website has already been simplified to reduce the booking process from 17 clicks to just five and the app is continually being optimised. Looking ahead, in addition to an investment in wearable technology, location-based communications, in-flight entertainment (IFE), onboard Wi-Fi and equipping cabin crew with electronic point of sale (EPOS) devices are also very much on the Ryanair Labs radar. In fact, Hurley confirmed that a trial of onboard connectivity and advertisement-funded wireless IFE is planned for the coming months.
Eighteen months ago, hearing a C-level Ryanair executive talk so positively about wearable and mobile technology, IFE, Wi-Fi and even simply putting the customer first would have been almost unthinkable, so we couldn't help but ask if this technology- and passenger-focused mindset could change once the novelty starts to wear off at the top of the ladder.
"At the moment, they're all very enthusiastic and very proactive, and they want to embrace change," Hurley said. "As long as you've got a good story that will help make a better customer experience and it's not going to cost us much money, they're very open to the idea because it's a market differentiator. We're all about load – the more people on the plane, the better for us – so if it helps to increase load then we're all for that."
While Hurley's passion for new technology is clear, his view of how it should be used to support the airline's wider business strategy is a pragmatic one. Following a fleeting mention of Google Glass, he said: "Some of these things, though, in hindsight, although they're very exciting, they're never going to make mass market, so it's getting that right, it's all about business cases, it's all about 'are you making money, are you saving money?' or 'are you making better experiences for the customer?' Our CEO (Michael O'Leary) is very active and very focused and he has his finger on the pulse. He's very interested in Ryanair Labs, which is fantastic."
Ryanair's more customer-friendly approach may continue to draw scepticism from some onlookers, but this investment in new technology and the 200-strong Ryanair Labs team, coupled with support from the top, is perhaps the best evidence that the carrier is being genuine when it says that improving the passenger experience is among its long-term priorities.