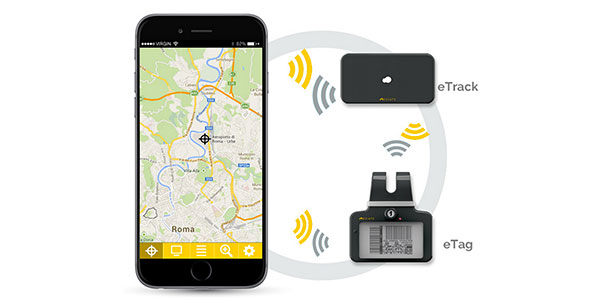 FastTrack Company, a key player behind last year's launch of a permanent bag tag and tracking device concept by Air France-KLM, has this week officially launched the Eviate eTrack, a new tracking device that allows travellers to track their baggage via their smartphone during every step of their journey.
Using GSM technology, the Eviate eTrack can be placed in the owner's suitcase and as well as allowing the bag to be tracked, it automatically sends the owner a message when the suitcase is opened, and another message when the suitcase arrives on the baggage carousel. Its rechargeable battery lasts up to ten flights and it features a patented Auto Flight Mode to comply with airline regulations when the bag is loaded onto the aircraft.
FastTrack Company says the eTrack "will be connected to existing baggage handling systems so airlines and ground personnel will also know where your bag is, making recovery when misplaced an even quicker process." The device will be available from August 2015 (but can be pre-ordered now at an introductory price of €99), and KLM will be among the first carriers to offer the product to their frequent flyers.
Ryanne van der Eijk, Chief Customer Experience Officer at KLM, commented: "I am pleased that KLM contributes to the development of Eviate eTag and eTrack, together with FastTrack Company, KPN and Samsonite. (It's) a great product that takes the stress out of travel with baggage, because it allows passengers to track their baggage easily and quickly. We are looking forward to offering this product to our Flying Blue customers."
The eTag that van der Eijk referred to is the Eviate eTag, a digital, permanent bag tag that allows passengers to check-in at home, update their bag tag and simply deposit their bag into the baggage handling system upon arrival at the airport. The permanent tag is not yet commercially available, but FastTrack Company is seeking feedback on which airlines travellers would like to see adopt the product.
What do you think – would you pay €99 for a baggage tracking device, and which airline(s) would you like to see introduce permanent bag tags? Leave your comments below.