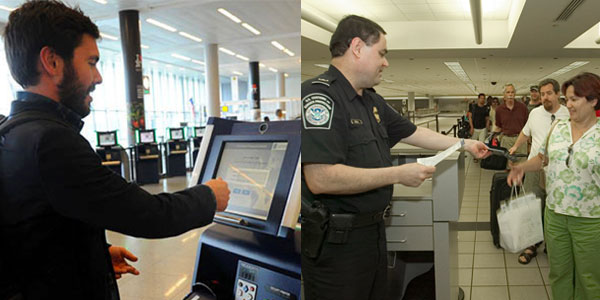 Reducing waiting times is a fundamental element of improving the airport experience and recent technological developments are enabling significant improvements to be made on this front, particularly at the customs and immigration checkpoint.
This is typified by the rollout of Automated Passport Control (APC) kiosks, 845 of which can now be found at 32 airports, mostly in the United States and Canada, but also in a selection of preclearance locations, ranging from Dublin to Abu Dhabi. The merits of APC have been widely reported, with shorter queues the biggest and most obvious benefit. Chicago O'Hare International Airport, for example, which was the first airport in the US to install the kiosks, reported a 24.8% reduction in the average time during peak hours as a result of the investment, and at New York-JFK, the average wait time was down 28% in 2014 compared to the previous 12 months.
Mobile Passport Control coming to 20 US airports
Building on the benefits of the APC kiosks, U.S. Customs and Border Protection (CBP) is exploring how it can further improve the passenger experience and reduce waiting times now that APC is in place at the vast majority of North America's major international airports. To this end, Mobile Passport Control (MPC) was launched as a trial in August last year, allowing travellers to submit their passport information and customs declaration form via smartphone or tablet prior to inspection by a CBP agent. The service can currently be used at Hartsfield-Jackson Atlanta International Airport and Miami International Airport, and U.S. CBP revealed to FTE this week that a much wider rollout is on the cards.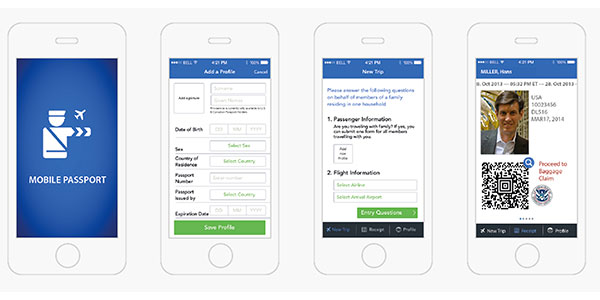 "In the coming weeks, eligible travellers arriving at Seattle-Tacoma International Airport will be able to use the app to expedite their arrival into the United States," a CBP spokesperson confirmed. "CBP has committed to expand the programme to the 20 airports with the highest volumes of international travellers by the end of 2016."
The appetite for expedited processing among travellers is, unsurprisingly, evident. Just last week, U.S. CBP Commissioner Kerlikowske revealed that the Global Entry trusted traveller programme has just enrolled its two millionth member. Combined with the APC and MPC rollouts, the expansion of trusted traveller programmes helped wait times drop by 13% at the 10 busiest US airports in 2014; undeniably a step in the right direction.
Expanding the scope of preclearance
This year, a focus is also being placed on expanding the reach of preclearance to help further cut queues for arriving passengers. In addition to nine Canadian locations, preclearance is currently available to US-bound travellers departing from Shannon, Dublin, Abu Dhabi, Aruba, Grand Bahama (Freeport), Lynden Pindling (Nassau) and Bermuda airports.
Stockholm Arlanda Airport recently revealed its ambitions to become just the third airport in Europe to offer preclearance, although approval, if granted, is likely to be many months away. The UK government is also said to have responded positively to the idea of introducing preclearance at the country's major airports. As with APC, it appears that there is significant desire for preclearance outside of North America, which is more good news, at least for US-bound travellers.
Brisbane Airport's Digital Departure Card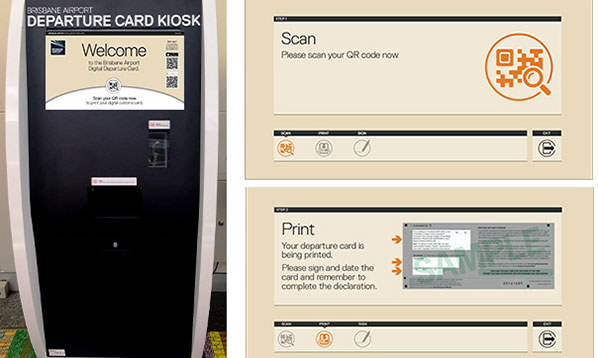 Further afield, expediting the immigration process is very much on the agenda in Australia. The SmartGate system, which automates the passport control process, has been gradually expanded in recent years to not only include Australian and New Zealand citizens, but also those from the UK, US and Singapore. Swiss, Canadian and Irish e-passport holders can also use the self-service e-gates as part of an ongoing trial.
Meanwhile, Brisbane Airport has this week become the first to trial a new app-based Digital Departure Card, which removes the need for passengers to hand-write an Outgoing Passenger Card ahead of leaving the country.
The Digital Departure Card is built into the Brisbane Airport app, and passengers can enter their personal information via their mobile device prior to their arrival at the airport, allowing them to save time in the terminal. The profile can be saved within the app, so the passenger doesn't have to enter the information every time they travel.
This information is then used to automatically generate a QR code that can be scanned and printed at dedicated kiosks in the International Terminal. The passenger must then sign the printed card and present it to a Customs officer.
Julieanne Alroe, CEO and Managing Director of Brisbane Airport Corporation (BAC), said the Australian Customs Service and Department of Immigration and Border Protection have "recognised the huge potential of this initiative", adding: "The result is an Australian, if not a world first digital solution that will save time, streamline processing and help reduce anxiety associated with departure formalities, especially for non-English speaking travellers."
Global potential
While many of the benefits associated with these developments have been felt at North American airports – especially with regard to the APC rollout – there is now hope that the advantages can be successfully exported on a global basis. As explained by Paul Mewett, Director of Innovative Travel Solutions at Vancouver Airport Authority, which has so far supplied more than 530 APC kiosks to 19 airports across Canada, the US and the Caribbean, the BorderXpress APC solution can be tailored to regional needs. In fact, "fruitful" conversations have already taken place outside of North America and the Caribbean.
We will have to wait and see where the next APC-style solution appears, but one thing that seems certain is that even more passengers stand to benefit from increased investment in innovative solutions to improve efficiency at the customs and immigration checkpoint.