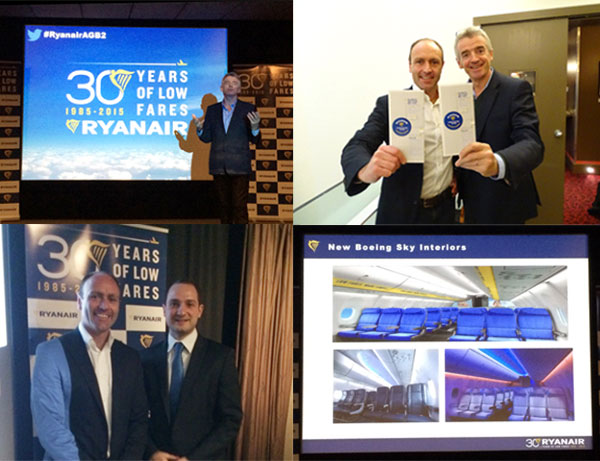 At the launch of Ryanair's new Customer Charter and the unveiling of the plan for the second year of the 'Always Getting Better' programme in London this week, there were, as you might expect, plenty of sound bites on offer – "this is a Ryanair that has quickly fallen in love with listening to our customers" – but underneath all of this was a very clear, customer-focused strategy.
The low-cost carrier's friendlier image is not only helping to win over customers who previously avoided the airline because of its brash personality and high penalty fees, but it is having a positive impact on the airline's forward bookings, load factor and profitability, according to CEO Michael O'Leary. "If I'd known being nicer to customers was going to work so well, I'd have done it years ago!" he joked.
"We now want to significantly improve the customer experience over the next couple of years, as well as continue to offer low fares," he said. "The new charter is a series of promises, signed by all of us, that we will live by over the coming years."
The airline's first Customer Charter is underpinned by eight promises:
Always Getting Better is the way we promise to do things
We promise the lowest fares
We promise the best choice of destinations
We promise to always prioritise safety
We promise to strive to make your travel an enjoyable experience
We promise we will always be Europe's most reliable airline
We promise to be transparent and to make travel simple for you
We promise to innovate to make your travel exciting.
Online personalisation
From a passenger experience perspective, the first, fifth and final points are the most pertinent, and Kenny Jacobs, Ryanair's Chief Marketing Officer, explained that customers will soon be able to reap the rewards of further investment in the Ryanair website and app.
He said work has been going on behind the scenes to help create a far more personalised online experience, and from October, customers will see a more tailored version of the homepage, depending on their preferences and location. They will be able to select their preferences, have one-click access to their favourite searches based on previous booking habits, be able to view a "destination content service" featuring customer reviews, as well as access an improved "My Ryanair" section.
The website will also include a real-time airline price comparison tool so customers can see how much the same flight would cost with another carrier, without having to leave the Ryanair website. "For 99.9% of passengers, when you make a travel decision, price is still the first question you ask," O'Leary said.
Another new addition will be the "Hold the Fare" function, which will allow passengers to hold the price of a specific flight for 24 hours at a cost of €5 while they make a final decision as to whether or not they would like to complete the booking.
According to Jacobs, the new-look website will be "a digital fulcrum that allows passengers to tell us more about themselves, so we can offer a more personalised service". Increased personalisation will also allow Ryanair to improve ancillary cross-sell – "we want to become a travel retailer that specialises in flight", Jacobs added.
Native iOS and Android apps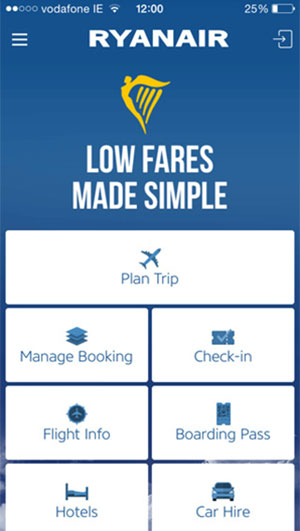 The current Ryanair app has been downloaded more than 4 million times to date, but at the end of March new native apps for iOS and Android devices will be released, as part of the carrier's plan to become a "digital leader". When asked by FTE whether Ryanair will soon use beacons to communicate with passengers via the app at some of its bigger bases, Jacobs revealed he isn't the biggest fan of the technology: "We are considering beacons, but they're one of those things that are slightly overhyped. If you listen to passengers, a lot of them have said they don't want to get multiple messages; they don't like it. Dublin and Gatwick are currently installing beacons themselves, so we'll probably trial something, but we'll wait and see."
Year 2 of 'Always Getting Better' also includes a focus on reducing some of the much-criticised fees. Airport check-in fees will be reduced from €75 to €45, and missed departure fees will be reduced from €110 to €99. For the first time, passengers will also be able to cancel any flights they've booked within 24 hours of making the booking at a cost of €15 per segment.
Improving cabin ambience
As well as focusing on the ground, upgrades are also being made onboard. The bright yellow tones in the cabin will become more subtle, and destination-related imagery will be used, with pictures of beaches and blue skies featured on the walls. Slim-line seats will be introduced from October, while new aircraft – the carrier has 183 Boeing 737 NG and 200 737 MAX 200 aircraft on order – will feature the Boeing Sky Interior, which offers programmable LED lighting to create a more relaxing cabin ambience. New uniforms will also be introduced, as will a new menu.
With a new Customer Charter and a concrete plan in place for its 'Always Getting Better' programme, Ryanair's approach now seems to be very much in line with what we've seen from other major carriers in recent years, but Jacobs claimed: "You're never going to see us become boring". He added: "We don't want to do what Southwest has done. They were the original LCC, but now if you fly Southwest, it's the same as if you fly with United."
Jacobs also revealed that an initial plan for the third year of the 'Always Getting Better' programme has already been sketched out, but when pressed to admit that Ryanair is playing catch-up after years of ignoring the value of customer experience, he simply replied: "What we've done this past year, other airlines have taken three years to do."