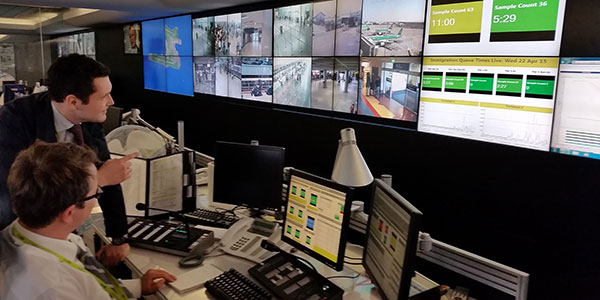 Airports tend to be data rich organisations, but the ones that fully exploit these vast amounts of data to enhance operational efficiency and make improvements for their customers are generally few and far between.
"Dublin Airport, like most airports, has a lot of systems, a lot of data, but has not always had a lot of information," John Seely, Technology Projects Manager, Dublin Airport Operations at daa, explained to FTE. This, however, is in the process of changing, thanks to an on-going project that aims to make the expansive data pool more accessible and, quite simply, more useful.
"Traditionally, the data sits within silos in the systems, so even when we have good data it's often within departments, so that department has good data, but the overall business has difficulty accessing it, or knowing it even exists. That's not unusual in an airport environment," Seely said. "So what we've tried to do is identify, very much with a focus on the passenger experience, how we can start to join together our different systems to help us improve the passenger journey and inform ourselves, our staff, the passengers, and also our stakeholders – the airlines, handling agents, immigration etc. – to help improve that journey."
Seely explained that daa had a good starting point on this project, as it already had its own corporate data warehouse. The problem has been that the "data was still in silos within that space". "We've looked at the airport operations systems, which are key to any airport, we've looked at our resource planning tools and how we can join them up," he continued. "We've also looked at the systems within security – the electronic gates at the entrance to security, the x-ray machines and the performance rates from the x-rays and metal detectors."
Queue management and resource allocation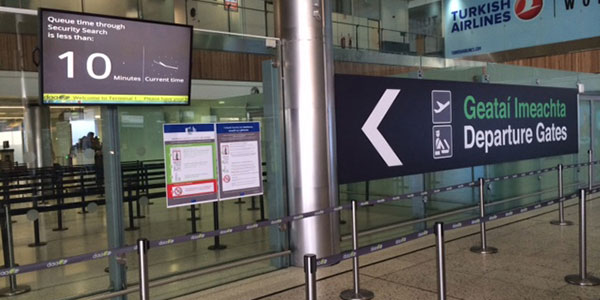 So, as the silos are broken down, how is daa actually starting to use the more seamlessly integrated data to make improvements across its business? To provide a few examples, when a passenger scans their boarding pass at the entrance to the security area, the airport automatically knows that they are going from landside to airside and communicates this to other stakeholders. At the same time, sensors throughout the security process track passengers anonymously via their smartphones, and predictive waiting times are generated and displayed both at the entrance and at various points throughout the queue.
This data is then integrated with the resource allocation tools, which help to identify bottlenecks and allow Dublin Airport to respond in real-time if queues are building up and if more staff are needed. The most important part is that all of this data is continuously shared with other key stakeholders, including immigration agencies and U.S. Customs and Border Protection (which offers pre-clearance at Dublin Airport). All parties can access this information on an all-encompassing digital dashboard called Targit.
Improving airport/airline data sharing
daa has also partnered specifically with Aer Lingus on a data sharing pilot, which Seely says is "still in its infancy". "The traditional passenger always went to check-in first, so the airline knew their passenger was at the airport," Seely explained. "Predominantly, the airline now doesn't know the passenger is at the airport until they arrive at the gate. It's only people that have to bag drop or check-in at the desk that the airline gets in contact with in advance.
"We (the airport) know that the airline's passenger is in the terminal when the passenger goes through security. So we're sharing that information with the airline. If, for example, the airline is boarding a flight to Barcelona and they're ready to close the gate but know they're missing a number of passengers, we can provide the information to them and say 'here's a list of all your passengers for that flight that have gone through security', so they can then make an informed decision whether to wait a little longer. If they see the passengers they're waiting on haven't even gone through security, they can go ahead and close the doors. The idea is to enable everyone to make informed decisions."
Seely also explained that better data sharing will help Dublin Airport and Aer Lingus more effectively track transfer passengers and allow them to identify at the earliest possible stage if a passenger is likely to miss their connecting flight. "This information will have always been there, but it will have been buried down in our operating system, quite difficult to access and quite difficult to easily view. Now we have it all as a dashboard, which is very simple."
Creating a 360-degree view of the passenger journey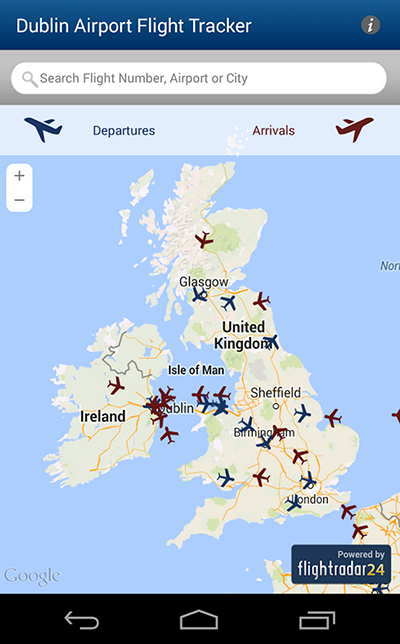 For daa's Data & Analytics team, this richer, more actionable data creates myriad opportunities. As described by Melissa Furze, Vice President of Data & Analytics, these opportunities can be broken down into four core areas: data driven decisions, customer intelligence, operational intelligence, and commercial focus. "We're developing an ecosystem that gives the right information to the right person at the right time. We're democratising data so it's easy to use, understand and act on," Furze told FTE.
"We're ensuring the data is accessible to our partners, at the airport, and also promoting data consumption through mobile apps by allowing passengers to access the data they need to improve their experience. They can access up to date flight information, live security queuing times, car parking and shopping information, and they can opt in to receive flight updates."
Furze explained that daa is working to create a "360-degree view" of its passenger journey, so it can provide a more personalised level of interaction and service, with a focus on "relevancy" and not simply bombarding the passenger with multiple messages. While the focus on operational intelligence will allow daa to analyse historical and current trends to help drive "continual improvements", the commercial focus is very much about "ensuring we use our data to have a better and deeper understanding of our customers, and to better target them at certain points".
'Kerb to gate passenger flow management'
It would be easy to assume that beacons will be installed to help put this plan into action, but Furze explained that she would be "reluctant to hang our hats on beacons", but conceded that they could be one of many technologies explored further in the months ahead as daa seeks to improve personalisation and bolster non-aeronautical revenues.
Seely backed up this point. "We're very neutral on the technologies we'll use", he said, adding: "We have to avoid a situation where everyone's app is screaming at the passenger. We need to make sure it doesn't end up like when you're in a tourist area and you're walking down a tourist street full of restaurants and everyone's trying to get you to look at their menu. If we create that atmosphere for the passenger, they'll simply turn off and the quality information that we want to provide won't be available to them."
More mobile-based tracking sensors will certainly be installed, though, and Seely explained that plans are in place to create a "full kerb to gate understanding of passenger flow management". "At the moment we use our sensors to identify queues at different places. If we put in sensors at the gates and at the front door, and combine that with what we're already doing, we can now start to build a flow throughout the terminal. We start to know, without knowing the individual passengers, how they flow from different gates, from different flights, and what different routes they take. It will help us create that 360-degree view."
While airports are often accused of not doing enough to leverage the true benefits of the immense amount of data at their disposal, it is an accusation that should not be levelled at Dublin Airport. Although both Seely and Furze admit there is still a long way to go, daa really is transforming its ability to access and analyse data for the benefit of all of its partners and customers, including, importantly, every one of its passengers.