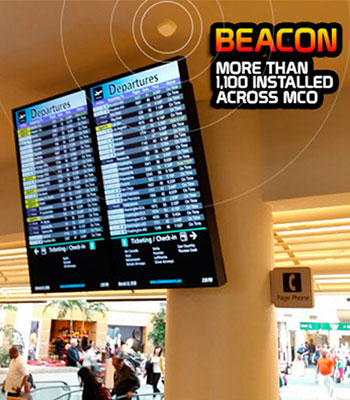 With passenger numbers on the rise, Orlando International Airport is being readied for further growth and an investment of $1.1 billion is set to drastically improve facilities and processing infrastructure across the airport.
The ongoing project is the biggest of its kind since the United States' fourteenth-busiest airport opened 34 years ago. In addition to the construction of a new South Terminal Automated People Mover (APM) Complex and Intermodal Transportation Facility, extensive enhancements to the North Terminal Complex are planned, and as Greater Orlando Aviation Authority (GOAA) Director of Customer Service Brian Engle explained to FTE, technological innovation is at the forefront of the ambition to create one of North America's leading passenger experiences.
"With the current structure here and the current terminal that we're in, we're going to offer passengers more space and we're going to open up our terminal and get into a more European style of doing things as far as the ticket counter is concerned," Engle said. "Historically, we've had just a straight line of ticket counters where people check-in. Self-service has caught on in the last 10 years, but taking it to the level of Europe, or even some of the major airports in Asia, where everything is "self, self, self", is next. We're expanding our lobby out so we can incorporate that into the design, where we have freestanding kiosks that are away from the ticket counter, so we can have self-tagging and the like. That's the way of the future and that's the way we want to position ourselves."
Engle explained that self-tagging kiosks and dedicated bag drop desks are very much on the agenda, while he revealed that he is a "big fan" of self-boarding, too. "Going from start to finish and not interfacing with anybody until you see the flight attendant on the aircraft – I'm a strong believer in that," he added.
Elsewhere in the terminal, the large-scale refurbishment will include improvements to the baggage handling system, the renovation of curbside canopies, expansion of Customs and Border Protection (CBP) facilities, the addition of international gates to accommodate larger aircraft, and APM train replacement for Airsides 1 and 3.
Prioritising wayfinding improvements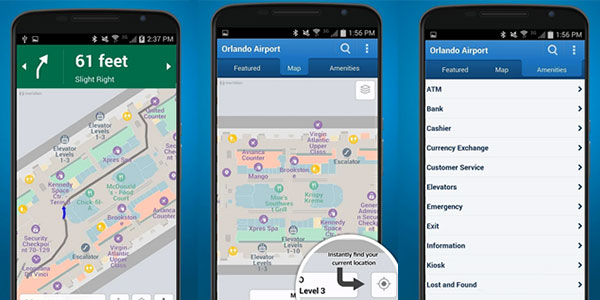 When Engle took on his current role with GOAA seven months ago – having already been based at Orlando International Airport for 15 years with Southwest Airlines, AirTran Airways, Delta Air Lines and Northwest Airlines – from day one he highlighted another area that was in need of urgent improvement: wayfinding.
"It was one of the first big targets that I identified," he said. "The demographics of our travellers are such that they're sometimes once a year flyers; they're not really accustomed in how to move through an airport, so we're trying to simplify their experience. Over 90% of our traffic originates and departs from here, unlike other airports where a lot of traffic is connecting, so it's very much about getting people in from the front door. We're starting to make changes in the signage. Less is better, that's my philosophy."
New signage solutions have been mocked up and trialled across the airport, from the car parks to the departure gates, and the monitoring of passenger behaviour is being used to assess how much impact the new solutions are having. Next up, according to Engle, could be touch-screen, interactive wayfinding kiosks.
'Beacons are a big part of what we're doing'
Another new technology Engle and his team have embraced is beacons. More than 1,100 of the Bluetooth low-energy devices can be found across the airport. "Our mobile app now has indoor navigation, but we're really at the front end of what we can do with beacons at the moment," he explained. "We continue to add to that and we're looking at getting to a point where it's really interactive and they can sense when a guest is in front of a shop and a message pops up saying 'hey, we have an X% off sale here today'."
Using beacons to gather data on wait times – which can be used to help optimise resources and enable accurate queuing times to be displayed on digital screens at passenger checkpoints – is also being piloted. "We're planning how far we can take it, but beacons are a big part of what we're doing now and will continue to be so moving forward."
Three-times faster security
Engle is clearly a believer in the benefits of new technology, but not all of the projects aimed at improving the passenger experience are entirely tech-focused, as is highlighted by a recent trial at the security checkpoint. A fast track lane, called the "Go Lane", was recently introduced and the idea was to direct more seasoned travellers – business travellers and those with only one piece of hand luggage, for instance – to this lane, to assess what impact separating them from large groups and families would have on throughput.
"We had Southwest on one side and Delta on the other looking at their customers as they were checking in and telling some of them that we have a speed lane. So when they get to security, they're already looking for this lane. We found that we can get three times more people through that Go Lane than we do the standard lane, plus the number of bags having to be opened after being x-rayed is three times less." In fact, in a two-hour period, more than 500 passengers passed through the Go Lane, compared to "180 to 190" in the standard lane. "We continue to try to refine this and eventually we want to incorporate that into our screening mix," Engle confirmed.
As the $1.1 billion renovation project is due to be complete in summer 2017, passengers will have to wait a couple of years for some of the major improvements, such as the "European-style" check-in hall, to take shape, but Engle says he and his colleagues will continue to work to identify ways to make further improvements in the meantime. All things considered, GOAA seems to be on the right track to creating a far more seamless passenger experience.